Widening of Bayan Lepas-Teluk Kumbar road ready in December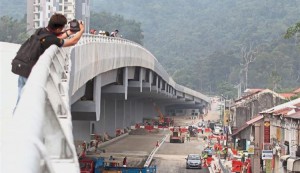 Motorists can expect a smoother ride from Bayan Lepas to Teluk Kumbar by the end of the year when the road upgrading project between the two places is completed.
Project manager Che Iskandar Che Din said the RM207mil project, which includes the widening of a 3km stretch from Bayan Lepas to Teluk Kumbar, was expected to be fully completed and opened in December.
It also involves the construction of a 750m-long flyover connecting Jalan Bayan Lepas to Jalan Teluk Kumbar and an elevated U-turn along Jalan Sultan Azlan Shah in Sungai Tiram.
He said the federal project began in February 2014 and was originally scheduled to be completed in August last year.
"Unfortunately due to unexpected circumstances involving underground piping and cable wirings from nearby industrial and residential structures, we extended the completion date twice.
"We are positive the project will be completed at the end of this year," he said during a site visit by Bayan Baru MP Sim Tze Tzin yesterday.
Sim said the upgraded road would shorten the journey time for many people.
He thanked locals for their patience and co-operation during the on-going works for the project.
Resident engineer Zamri Yusuf said the project required the demolition of some buildings and infrastructure in its early stage.
These included the old Bayan Lepas police station, south-west district health office's vector control unit and Bayan Lepas Village Security and Development Committee (JKKK) hall.
Zamri said temporary buildings were constructed for the station, hall and vector control unit.
"We have begun constructing the new buildings for them at or near their previous locations" he added.
Source: TheStar.com.my