Challenging market: Penang developers step up on goodies to attract buyers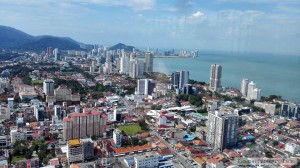 Property developers in Penang are offering various packages to entice the market into buying properties launched last year but could not sell because of cooling measures and a subdued housing market.
PA International Property Consultants (Penang) Sdn Bhd executive director Loo Choo Beng said developers were now offering attractive packages to enhance their properties.
They include giving potential buyers rebates and freebies, as well as offering them low down-payment schemes and interior design packages.
Some developers, such as SP Setia Bhd, are also offering differential sum loan schemes.
SP Setia's differential sum loan scheme, Setia Express Advance Loan (SEAL), is only available for its completed projects, which includes Pearl Villas @ Setia Pearl Island, Penang.
SEAL's three-year tenure would enable buyers to have more options to arrange for alternative financing, like accessing their Employees Provident Fund savings, or unlocking other assets to fund the differential sum.
The scheme offers interest rates as low as 5.5 per cent per year, and up to 30 per cent of the intended property purchase price.
"Penang's property market remained soft last year. Cautious spending behaviour and competition with newly completed properties are part of the reasons for the slow sales performance," he told NST Property.
According to the Malaysian Property Market Report released in April by the Valuation and Property Services Department, developers launched 52,713 units last year but sold only 16,532 units, or 31.4 per cent.
Penang's newly-launched houses performed the worst last year in terms of sales. Developers sold only 9.9 per cent, or 561 units, of the 5,646 units launched in the market.
Reasons for this included high loan application rejections, rising cost of living, the depreciating ringgit versus major currencies and weak consumer sentiment.
Loo said based on the analysis shown above, the low sales performance of newly-launched projects could also be attributed to the zero take-up rate of the affordable housing sub-sector.
"Our observation revealed that the demand for affordable housing in Penang is still encouraging. There might be a reason that the process of taking up affordable housing units takes time, as it needs state council approval.
"Even though the units have been booked by the purchasers, it will only be considered sold upon receiving approval from the state council," said Loo.
Loo said as housing was a basic need, the demand would continue to grow in line with population growth.
He said given the current soft market, there might be a group of people whose purchasing ability were affected by the slowing economy, but there was also a group of consumers with stable incomes and were still pursuing their dreams of owning property.
"However, the right pricing and type of property should be studied properly in order to meet the market's needs," he said.
Projects that may project a more positive outlook this year and the next include units priced below RM1 million.
There are several developers who are actively pursuing developments in the state. They include Ideal Property, SP Setia, Eco World, Hunza, Aspen, IJM Land, Mah Sing and Tambun Indah.
Mah Sing recently said that it was buying 4.4ha of freehold land in Bukit Mertajam, Penang, for RM43.8 million.
The land will be developed into an industrial business park with a gross development value of RM150 million. The project is scheduled for a preview in the third quarter of this year and is to be developed over three to four years.
2017 Market Performance
Loo said property market activity this year might have slowed down, but was still stable and healthy.
He said cautious sentiment or perception would persist due to the slowing economy, which may make 2017 a challenging year.
"The property market in Penang is experiencing a period of consolidation and price correction in terms of rentals and sales.
"We welcome a pricing correction in the high-end segment, as prices in the high-end category have peaked. The price correction process will bring a new equilibrium between supply and demand in the market.
"You may expect some good buying opportunities during this price correction period, as some desperate sellers in the secondary market may be willing to dispose of their property at the discounted price.
"However, personal affordability is a major factor to be taken into account before committing into any loan financing for property," said Loo.
Loo said the industrial and office property sub-sectors were expected to see stable and positive growth due to the state's efforts in seeking convergence between the manufacturing and services sectors.
He said incoming supply of high-rise residential property was expected to exert more pressure on occupancy rates.
The growth of Meetings, Incentives, Conferences and Events (MICE) industry would also be an attractive proposition for the hospitality property sub-sector, he said.
"The mainland is going through massive transformation, with Butterworth expected to be another upcoming hotspot after Batu Kawan.
"Even though the Penang Transport Master Plan (PTMP) is still uncertain, thus not having any material effect on the property market, public transport is a must in Penang in order to maintain the livability of the city," he said.
Product, place and time must be right
Property developers who build the right product in the right location and with the right pricing will do well, as it will attract people to buy their products.
YTL Land & Development Bhd executive director Datuk Yeoh Seok Kian said a product with the right strategy would do well no matter what the market conditions were.
"There is no such thing as no demand. It is a matter of pricing and location. If you price it correctly and in the right location, then people will come.
"Even now, in a recession period, if you price it correctly there will be buyers. I have gone through three to four cycles and I have seen the highs and lows.
"There are few pockets of land, and people are asking for high prices (for them). That is why we are taking a longer time to land a deal. If prices are too high, it means we have to sell at higher prices.
"We are eyeing land in Batu Kawan as there is a new linkage, as well as some universities," said Yeoh.
Shorefront is YTL Land's maiden project in Penang. The RM330 million project, comprising 115 units in three blocks, is located adjacent to the E&O Hotel and is fully sold.
The average selling price was RM2,000 per sq ft.
Source: New Straits Times