RM17 billion approved for Bayan Lepas LRT and Pan Island Link 1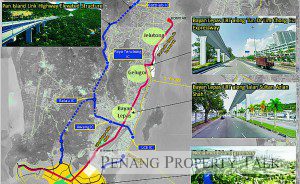 Penang government yesterday announced that a sum of RM17 billion from an estimated total cost of RM46 billion for the Penang Transport Master Plan (PTMP) project has been approved.
State Local Government, Traffic Management and Flood Mitigation Committee chairman Chow Kon Yeow said the RM17 billion cost included the Bayan Lepas Light Rail Transit (LRT) from Komtar and the Pan Island Link 1.
He also reiterated that the total cost of PTMP as proposed by its project delivery partner, SRS Consortium, was RM46 billion for the railway and highway which also included three major roads and an undersea tunnel project by Consortium Zenith Construction Sdn Bhd (CSZ).
He said based on the engineering consultant Halcrow's study in 2011, the report only covered the conceptual studies, at an estimated cost of RM27 billion. There were no detailed studies undertaken.
"The state government had appointed SRS Consortium to implement the PTMP, and the consortium had proposed a cost of RM46 billion after they conducted feasibility study and preliminary engineering design," he said.
He added that the cost has remained the same so far.
It was reported earlier this month that the Barisan Nasional strategic communications team had questioned the Penang government over the alleged increase of the PTMP cost from RM27 billion to RM46 billion, an increase of RM19 billion.
"What is approved for Phase 1 is less than RM27 billion. What have been approved and will be given the green light to start are the Bayan Lepas Light Rail Transit (LRT) and the Pan Island Link 1 projects, which are just about RM17 billion," he told reporters here today.
He explained that the Environmental Impact Assessment (EIA) report for the Bayan Lepas LRT project had been submitted to the Department of Environment in May and is currently waiting for the Land Public Transport Commission's (SPAD) conditional approval for public inspection.
As for the EIA report on the Pan Island Link, it is expected to be submitted by the end of July.
Chow hoped that SPAD which is currently working on the Northern Region Transport Master Plan, would provide the conditional approval for public inspection for the Bayan Lepas LRT project soon.
Source: Bernama