IKEA Penang will open by Q1 2019
We have found yet another job posting by IKEA Southeast Asia for their first IKEA store in Penang.
From the latest job posting, it seems IKEA is now targeting to open their new store in Penang by 1st quarter of 2019. The company is now looking for a Deputy Store Manager, who will be on the job training at IKEA Cheras for 12-18 months and relocate to IKEA Penang in late 2018.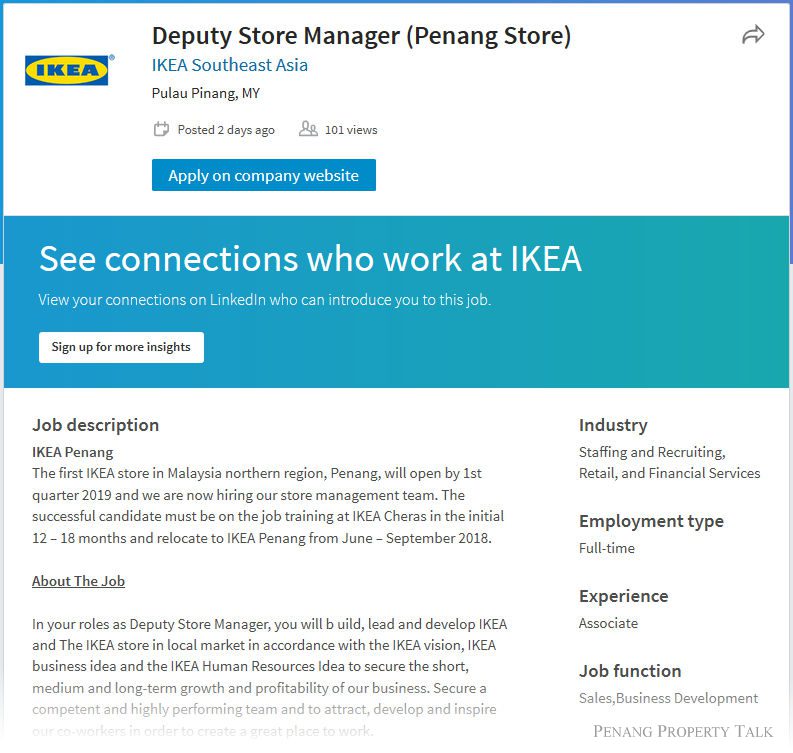 If you are interested in the job, you may check out their latest job advertisement at LinkedIn. The application closing date is 5 May 2017.
About IKEA Penang

First announced in early 2014, IKEA Penang will be the forth IKEA store in Malaysia and the second one outside of Klang Valley after Johor Bahru. Ikano had teamed up with Aspen Group in September 2014 to purchase 245 acres of land in Batu Kawan from Penang Development Corp to develop the Aspen Vision City (AVC), where the IKEA store would be located.

The IKEA store will bring affordable range of functional home furnishings to the northern region, along with hundreds of job and economic spin-off opportunities for the local community. The construction of the new IKEA store was scheduled to complete by Q3 2018. However, the latest job posting indicated that the new store will only open in Q1 2019.
Register here to receive more development updates from Penang Property Talk