Property, industrial groups support Penang Transport Master Plan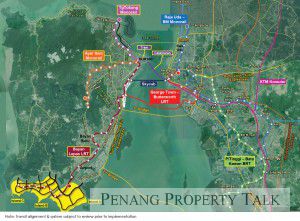 Property and industrial groups today backed the implementation of the RM27 billion Penang Transport Master Plan (PTMP) for the greater good.
Federation of Malaysian Manufacturers (FMM) Penang Branch vice chairman KK Hun said the state needed to move forward or risk being left behind.
He cited Malacca and Johor as examples of fast-moving economies and asked if people wanted their children to move out in search for jobs.
"Do we want our children to move out and to leave behind old city?," he asked in a press conference today after viewing the PTMP request for proposal (RFP) documents which are on public display until today (Feb 28) at the Dewan Sri Pinang.
The PTMP is an ambitious project mooted by the state government to link Penang island and the mainland with a network of highways and rail based transport.
SRS Consortium has been appointed the Project Delivery Partner (PDP) for the project where funding hinges on reclaiming some 1,618ha of land at the south coast of Penang island.
In April last year, the state submitted plans for a light railway transit (LRT) system linking Komtar and Bayan Lepas to the Land Public Transport Commission (SPAD).
The LRT line, a Pan Island Link (PIL) highway and the proposed reclamation are the first phase of the PTMP.
Also mirroring the support was the International Real Estate Federation (FIABCI) Penang Branch chairman Datuk Khor Siang Gin who said the PTMP can bring the state to the next level of development.
He said the project was needed to attract more investments and will benefit the people by providing public transport.
"This will help make Penang livable and help the state in the long term," he added.
On concerns and criticisms by NGOs of the project regarding the reclamation, Hun said there will be costs in whatever activities was being conducted and so balance was an important consideration.
He said there should be a "give and take" approach and pointed out land in the state was scarce.
"We have run out of land to build factories, the project is needed to have more factories to bring investments to Penang," he said.
Source: TheSunDaily.my