Hua Yang Officially Launched Meritus Residensi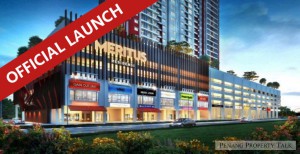 Hua Yang Berhad has charted a successful expansion into the Penang property market via the positive reception of its first development in the State. Meritus Residensi, which was introduced in November 2016, recorded a good take up rate of 34%.
The project, which was officially launched on 31st January 2017 in conjunction with the Group's Chinese New Year celebration, comprises 480 units of serviced apartments and 15 retail shops with an estimated Gross Development Value (GDV) of RM220 million. This 4.32-acre development makes up the first phase of a 6.98-acre freehold mixed development located along the vibrant Jalan Baru. The estimated GDV of the overall development is RM324 million.
Speaking at the official launch of the project, Assistant General Manager of Hua Yang, Tony Ng said that the Group will continue its efforts in offering affordable housing in the Penang market. "There is a rise in demand for affordable homes in Malaysia and this is especially evident in key urban centres such as Penang. The State is developing rapidly and land is becoming more and more scare, opening doors to high-rise developments such as Meritus Residensi."
"We are heartened that our inaugural project here has been well-received, and this encourages us to further commit resources in developing affordable projects in Penang. One way to do this is to ensure we continuously engage with Penangites, and this is only possible if we are present here on a permanent basis."
Meritus Residensi comes in a variety of sizes, from 945 sq.ft. (square feet) onwards, and are priced from RM364,500. The project is expected to be completed by 2020. The Group now has a total undeveloped land bank of 335 acres in the Northern region with a potential GDV of RM1.9 billion.
Established in 1978, the Group today is recognised as one of the nation's leading property developers in the affordable housing segment, with a strong footprint in Klang Valley, Perak and Johor. The Group's foray into the Northern region is an extension of Hua Yang's vision to help make dreams of affordable home ownership a reality.