City of Dreams – The pinnacle of luxurious living
Building dreams, a ground-breaking transformation next to the millionaire's enclave of Seri Tanjung Pinang. Commanding some of the most impressive waterfront and promenade views of Gurney Drive. City of Dreams offers the pinnacle of luxurious living with an exclusive location providing the finest living experience with convenient access to nearby world class dining, shopping and attractions.
City of Dreams, the latest edition from Ewein Zenith Sdn Bhd., is a two 38-storey towers of luxury seafront serviced apartment that enables its residents to enjoy supreme living akin to five-star hotels. The 3.67-acre project is part of the 50-acre Wellness City of Dreams development, which covers part of 110-acre freehold reclaimed tract in Seri Tanjung Pinang and Gurney Drive.
Wellness City of Dreams is a mega development, located next to Gurney Wharf, which includes wellness apartments, retirement and healthcare wellness residential suits, serviced apartments with wellness facilities, resort suites and ambulatory services. The massive development will compliment the City of Dreams' unobstructed seafront experience with eye-catching view of the public recreation park and greeneries.
Five-star family oriented living with breathtaking view
City of Dreams futuristic stylish building with its architectural design elements emphasized, bear a resemblance to glowing precious diamonds embodied in the structure. Diamonds to symbolize the pricelessness of a harmonious home along with the naming of the towers, Elaine for Tower A and Chloe for Tower B signifies the commitment of having a family-oriented atmosphere home.
With an elegant and classy concept, the 572 units offers a breathtaking view where all its unit faces the sea. Buyers are spoilt for choices with five types of design with sizes ranges from 1097 sq.ft. to 2315 sq.ft, type A are corner units, type B & C are intermediate units and type D are duplex. The floorplan encompasses 3 bedrooms, 2 bathrooms, a spacious living hall, dining hall and a sleek open concept kitchen. Envisioned to emphasize on privacy, only 10 units on each level and each unit comes with access to two private elevators.
World-class facilities
Designed to pamper your family with world-class living, City of Dreams is furnished with more than 60 luxurious facilities, providing only comfortable yet superbly relaxing atmosphere. It is typical for facilities area to be located at one floor but for this unique development, the facilities covers more than 120K sq ft area and are located at the ground floor, Level 1, 6, 36 and 37 with different themes offering endless possibilities.
The royal feeling starts the minute you enter the Grand Lobby of this beautiful building.  Bejeweled with landscaped water features, it has undoubtedly one of the best design with spacious function area for large reception and banquets. Equipped with finest designer furniture and art sculptures, the Grand Lobby is absolutely an impressive entrance.
To live a healthy lifestyle, eating habits and regular exercise are the key factors. The 6th floor named Indulgence Floor comes with convenient facilities such as fitness centre, aqua gym, Jacuzzi, Olympic-sized swimming pool and wading pool will absolutely be able to provide a soothing lifestyle. For those who wanted to have a big event, a grand ballroom with pre-function gallery is readily availability to cater up to 240 people.
At the 36th floor called Blissful Floor offers Private Lift Lobby Lounge, Infinity Sky Pools, Day Bed, Sky Garden, Sky Lounges and Sky Terrace. The 37th floor known as Delighted Floor has Sky Wine Lounge, Sky Library, Sky Deck, Sky Dining Room, Sky Cigar Bar and Sky Gallery.
Being a green development, the importance of eco-friendly features is one of the key focus in City of Dreams. It offers a rainwater system, food waste management system, trash valet with reduce, reuse, recycle features and key design is the installation of a solar power system.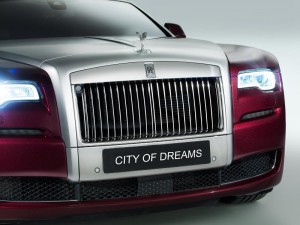 Chauffeured Rolls-Royce and yacht charter service
Apart from the top-notch facilities, the state of art eight-tier security system, chauffeured Rolls-Royce and yacht charter service will make City of Dream one the safest and most exclusive lifestyle living in Penang.
Chauffeured Rolls-Royce service will be readily available to provide personalized service and comfort with total reliability for the residents. This is perfect for airport pickups, weddings, business meetings and more.
Yachting lovers will find City of Dreams to their liking as the yacht charter service offers elegant experience on water with premium facilities onboard. Best of all, the residents will get to enjoy the many wonderful pleasures of yachting without the associated high ownership costs and responsibilities.
City of Dreams, which was awarded the Best Luxury Lifestyle Development in Malaysia, is attractively priced from RM1,350 psf onwards, with an affordable maintenance fee of 30 cents psf. The project is currently 65% sold.
That's not all! Purchasers will also stand a chance to drive home a Ferrari Sports car in the City of Dreams lucky draw.
For more details, please contact Zeon Properties at +6012 443 8888.