Review of Penang Structure Plan 2020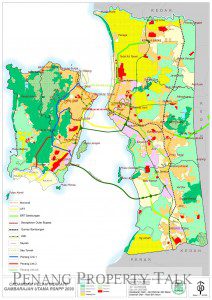 An "inspection report" for the review of the Penang Structure Plan 2020 (PSP 2020) will be up for display to get public feedback from today until Jan 31.
Chief Minister Lim Guan Eng said the draft of the finalised PSP 2020 would be open for display again in the first quarter of next year after considering all the feedback on the inspection report.
The PSP 2020 and its subsidiary local plans are important for proper planned development of the state in the near future.
It will specify the type of projects allowed in every area in the state that the public can look forward to.
The last structure plan was gazetted in 2007. Such plans are renewed every five years.
Critics had criticised the delay by the Penang government in coming out with the next structure plan, which was due in 2012.
The local plans for Penang Island and Seberang Prai were also not seen although a draft plan was reportedly ready to be gazetted.
Lim said the delay was due to preparation and gazettement of the Special Area Plan (SAP) documents, which would be absorbed into the PSP.
This included the George Town World Heritage Site SAP and Penang Hill SAP. Both the SAPs were gazetted on Sept 1.
"We had to gazette these smaller plans before we could do the PSP," Lim told a press conference at Komtar today.
Meanwhile, Penang town and country planning department director Mohd Anuar Maidin hoped the public would give positive feedback on the development projects targeted in their areas.
The draft plan will be displayed at the state government office on the third floor of Komtar; Town Hall, Padang Kota Lama; and Seberang Prai Municipal Council office in Bandar Perda, Bukit Mertajam.
Viewing hours are from 9am to 4.30pm during weekdays.
Feedback forms will be available at the display venues.
The draft and feedback forms can also be downloaded from the Penang Town and Country Plan website.
Source: FMT