Penang homeowners get assessment exemptions for 2017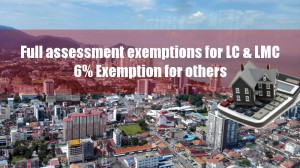 Penang property owners will receive massive savings on their assessment rates for next year, the Pakatan Harapan state government announced today.
Chief Minister Lim Guan Eng said low- and medium-cost homeowners as well as those living in kampung houses will be fully-exempt from payment while other property owners, including commercial, will receive a 6 per cent exemption.
He said the move is to alleviate the economic pinch felt by some 1.7 million Penangites as living costs rise even as the value of the ringgit fell.
The assessment rate exemption to residential property owners is expected to cost the state councils some RM14.1 million while commercial property owners will save a total of RM21.74 million.
Lim also said his state administration has ordered Penang's two city councils, the Penang City Council on the island and the Seberang Perai City Council on the mainland, to bear the still controversial Good and Services Tax (GST) of 6 per cent to be charged on the assessment rate.
"This means Penangites will save as much as RM19.36 million from the GST payments," he said in a statement.
"This measure by the state government and the local authorities is able to save 1.7 million Penangites RM55.19 million for the year 2017," he added.
Read More: TheMalayMailOnline.com