Busloads of visitors turn holidays into a nightmare for the neighbours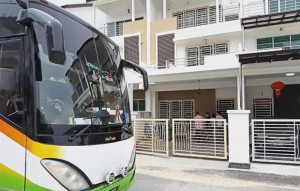 The year-end holiday season has turned into an unpleasant time for a family in Batu Maung – their neighbour operates a homestay and receives busloads of visitors at odd hours of the day.
Housewife Idah, 53, said that in a span of 10 days, four busloads of people arrived at her neighbour's place.
She claimed that the three-storey terrace house in Batu Maung was turned into a homestay about a year ago, and people would arrive on almost all weekends and school holidays.
"In the beginning, they came in cars and vans and this did not cause much nuisance.
"Later, busloads of people started coming from all over the country," she said when met at her house in Batu Maung yesterday.
Idah said that there was no peace of mind for her and her family ever since the school holidays started as the visitors would often make noise till late at night.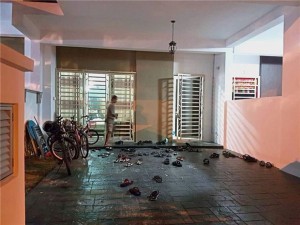 "We have difficulties getting to sleep. These people would leave their garbage outside the house, causing foul odour and attracting flies.
"We are also worried about our safety as these visitors, who are mostly Malaysians but from different states, are strangers to us," she said, adding that most of the time she is alone in the house.
Idah claimed that she and her husband have spoken to the owner of the neighbouring house about the inconveniences caused by the visitors and he told them that he would look into it.
"He later stopped answering our calls," she said, adding that she would write an official complaint to the Penang Island City Council (MBPP) and the Consumers Association of Penang (CAP) about the issue.
A check at the website of an online marketplace for homestay network, where the particular place has been listed, shows that the premises can accommodate up to 40 people and the check-in is round-the-clock.
When contacted yesterday, MBPP's Building director Yew Tung Seang said they have received a lot of complaints related to such homestays, including several in Batu Maung.
"We are aware that these homestays are causing a lot of problems and we are looking into the matter," he said.
READ MORE: TheStar.com.my