New Holiday Inn & Suites in Penang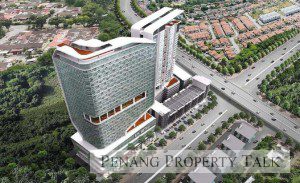 InterContinental Hotels Group (IHG®), one of the world's leading hotel companies, has signed a management agreement with Exopuri Development Sdn Bhd to develop a new 288-room Holiday Inn & Suites on mainland Penang.
The hotel will be strategically located in the bustling commercial district of Prai, between the major bridges connecting mainland Penang and Penang Island. Business guests can enjoy a short 15-minute commute to most major commercial areas in Prai which are home to the headquarters of a number of multinational companies, whilst visitors travelling for leisure can access Penang's renowned downtown area, Georgetown, by car through a half hour drive from the hotel.
When it opens in four years, Holiday Inn & Suites Penang Prai will be the tallest building in the area at approximately 35 levels, enjoying high visibility from the North-South Highway which connects Malaysian capital Kuala Lumpur with Penang and other northern cities. The hotel, which will be a short drive to upcoming major development Batu Kawan, will sit within Juru Sentral, a mixed use complex, alongside retail shops, residential premises, offices and serviced apartments. Guests will also appreciate the close proximity of the hotel to two of Prai's main lifestyle hubs, Auto City and Icon City which boast a wide range of restaurants and bars and banking facilities.
Leanne Harwood, Vice President, Operations, South East Asia and Korea, IHG said: "We are delighted to have this opportunity to work with Exopuri Development Sdn Bhd to expand our presence in Penang as the state, also known to most as the 'Silicon Valley of the East', continues to experience growth in visitor arrivals and gain traction as a regional business hub for international companies. Penang welcomes international and intra-regional visitors from countries where the Holiday Inn brand is well known and loved, and we are confident Holiday Inn & Suites Penang Prai will be a great addition to the Malaysian state when it opens within the next few years."
Holiday Inn & Suites Penang Prai will feature four restaurants and bars: an all day dining, a lobby lounge, a pool bar and a rooftop sky bar. The hotel will also have 12 meeting rooms including a ballroom with a generous seating capacity to cater for a range of meetings and events. Guests can enjoy the outdoor pool, work out at the fitness centre or relax at the spa during their downtime. In addition, the hotel will include suites with amenities catering to guests staying in Penang for an extended period of time.
Mr. Ng Kock Leong, Managing Director, Exopuri Development Sdn Bhd said: "We are pleased to be developing the hotel with IHG who we know has a great reputation in operating world-class hotels. The Holiday Inn brand is well loved and recognised by travellers all around the world, and coupled with the great location we are opening the hotel in, we are confident Holiday Inn & Suites Penang Prai will be the hotel of choice by both first time and frequent travellers to Penang. We look forward to welcoming guests through our doors when the hotel opens."
Register your interest here to receive more updates about properties in Penang
Source: HospitalityNet