Investing in George Town pre-war buildings bears fruit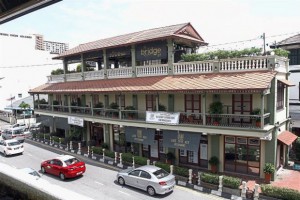 Singaporean entrepreneur with Penang roots, Jonathan Foo, 44, is seeing his family investment in heritage properties of George Town taking a form that will generate long-term recurring income.
Foo is the chief executive officer of 1919 Global Sdn Bhd, which has to date spent in excess of RM10mil to conserve its heritage properties in George Town.
"In 2006, my father bought 19 pre-war properties in dilapidated conditions along Khoo Sian Ewe Road, Penang Road and Phee Choon Road.
"Many of our relatives and friends did not believe it was good investment because no one believed that dilapidated pre-war houses could be renovated and adapted for modern commercial use.
"When George Town was awarded the World Heritage Site status from Unesco in 2008, we knew it was time to start doing something with our heritage property investments.
The first phase of the restoration project involved renovating Loke Thye Kee Restaurant, on the corner of Khoo Sian Ewe Road and Burma Road. "The Loke Thye Kee Restaurant restoration was completed in 2014. We are now doing some upgrading works for the interior and will start operation in October 2016 as a Penang heritage food restaurant," Foo says.
The second phase involved turning five pre-war houses facing Penang Road into a hotel.
"Known as Loke Thye Kee Residences, the hotel, which started operation a year ago, targets overseas and domestic tourists who appreciate heritage architecture.
"The heritage hotel, with modern comforts, was awarded as top five suites in Asia by The Asia Design Hotel Awards 2016," Foo adds.
The third phase saw the renovation of the famous Majestic Theatre into a multi-purpose convention hall which can be used for screening movies, live performance, and rented out to host events and weddings.
"The restoration was recently completed and The Majestic Theatre is now opened to public.
"It is the only heritage theatre in George Town that you can still watch a movie or a live performance," he says.
Built in 1926, The Majestic Theatre, also formerly known as the Shanghai Sound Theatre, was the first "talkies" theatre in Northern Malaya and was originally designed as a live performance theatre.
The theatre and the adjoining 12 shop-houses were commissioned by local businessman and philanthropist, Khoo Sian Ewe, whose name now adorns the street fronting the building.
The fourth phase of restoration, which is being undertaken now, involved turning 12 pre-war properties along Phee Choon Road into a commercial hub for the media industry, with production and post-production facilities for film, television, and design," Foo says.
"We are also getting queries from parties interested to instruct post-production movie and television courses at the commercial hub.
Foo says he is confident his project would help to pull back talented Penangites who have gone overseas to work.
According to Foo, Penang is on the right track in its effort to conserve heritage properties. "However, the authorities who formulate the heritage conservation guidelines do not do enough to obtain feedback from the heritage property owners.
"They are instead influenced by non-government organisations who feel that heritage properties should be conserved to reflect only the style and theme of a historical period during which the properties were first built.
"This is a wrong view of heritage conservation, which could impede the progress of heritage conservation work.
"We are talking about living heritage and not a single period frozen in time," Foo adds.
On whether the rentals of heritage properties have skyrocketed, Foo says that as the cost of buying and renovating a heritage property is high, it is only natural that the landlord asks for higher rentals.
"If we cannot recover the capital spent, then how are we to launch future heritage conservation projects?" Foo asks.
According to Foo, if the heritage guidelines cause delay for heritage conservation projects to get started, investors will lose money.
"They may abandon their projects to cut losses if the delay is prolonged.
"George Town would just become an area of aged ruins.
"How could George Town then uphold its Unesco World Heritage Site status?" Foo asks.
Foo says that in the past, George Town was a well-know trading and commercial hub in the Asean region.
"Why would it be wrong for Penang to continue to be commercially significant, to continue as a key hub for heritage properties to gain in value," he says.
Source: TheStar.com.my