We need reasonably priced houses, not longer loan tenure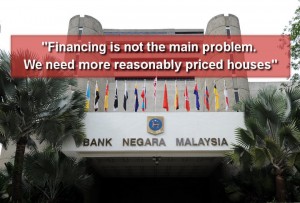 The maximum housing loan tenure of 35 years is more than sufficient for borrowers to settle their housing loans before their retirement, Bank Negara Malaysia said.
"For example, if a housing loan is offered when the borrower is 25-year-old, a financing tenure of 35 years will extend to the retirement age of 60," it said in a statement today.
In addition, increasing the loan tenure to 40 years will further add to the total cost of financing without significant improvements in the affordability of one's monthly instalment, it said.
The central bank said this in response to a news report on requests for the central bank to review the lending guidelines in relation to the extension of the loan repayment period from 35 to 40 years.
The central bank said the implementation of BNM's responsible financing guidelines serves to protect individuals' interests so that they borrow within their capacity to repay the loans throughout its tenure. This is to prevent borrowers from falling into financial hardship due to excessive debt burden that may lead to foreclosures, thus undermining the objective of house ownership.
Access to financing is not the main problem confronting potential buyers of affordable houses, BNM said, adding that the fundamental issues that required resolution were affordability and the shortage of supply of reasonably priced houses.
It stated that financial institutions would continue to lend to individuals who can afford to take a housing loan, including for the purchase of their first home.
In July 2016, outstanding housing loans extended by financial institutions continued to grow at 10.1 per cent year-on-year and amounted to RM460.2 billion. About 75 per cent of borrowers or approximately 1.5 million borrowers with housing loans are first-time house buyers.
Financial institutions are responsible to establish that borrowers' income after statutory deductions, expenditure on necessities and all other obligations are able to meet debt repayments, it said.
"This is to ensure that borrowers can continue to service their loan and have sufficient financial buffers for living expenses and deal with any future increase in financing rates and rising costs," it added.
Source: Bernama