Henry Butcher: 77% of Penang existing residential properties selling below RM500,000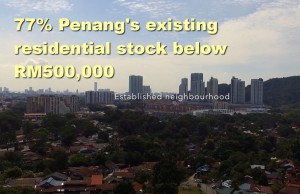 Despite being the one of the most expensive housing markets in Malaysia, the Penang government has been making efforts to push affordable housing development for the young working population.
According to Henry Butcher Malaysia (Penang), 77% of the state's existing residential stock is priced below RM500,000.
As at 2Q2016, Penang has a total existing residential stock of 402,494 units comprising 217,467 units in Penang Island and 185,027 units in Seberang Perai.
About 48% of the total existing residential stock is priced below RM250,000 followed by 29% with prices between RM250,001 and RM500,000 and 16% with prices between RM500,001 and RM1,000,000.
Only 7% of the existing houses is priced above RM1 million.
Incoming supply was registered at 88,072 units with 46,686 units and 41,386 units located on Penang Island and Seberang Perai, respectively.
"Penang State Government's initiative to provide a 'roof under one's head' is commendable with constant review of updating the criteria to qualify for purchase of affordable housing," said the consultancy firm in its "Penang Real Estate Market: Opportunities despite weak sentiments" research report 2Q2016.
According to the report, the applicant (and spouse) for affordable housing in Penang must not own any property in any state in Malaysia.
However, a person who already owns a property can purchase a unit of affordable housing provided the market value is higher than the property he already owns.
"The State had also applied flexibility by releasing 30% of the total affordable housing units to Penang-born buyers regardless of whether one had already owned a property," said the report.
In addition to the Shared-Ownership Scheme (where the state funds 30% of the home and the owner pays back every month interest-free), Penang also introduced the Rent-to-Own scheme in 2014 to help those who cannot afford to buy their first home.
This scheme allows potential buyers to rent their home at only RM100 per month for 15 years with service charge at RM15 per month after which the property is turned over to the tenant. In addition, each unit will also be equipped with household items.
The ongoing affordable housing developments undertaken by private developers on Penang Island include Tri-Pinnacle by Aspen Group, Ramah Pavilion by M Summit Group, One Foresta and I-Santorini by Ideal Property Group as well as Granito by BSG Group.
However, for non-Penang-born buyers who are under the talented and skilled category, the applicant must undertake to reside in Penang for a minimum of five years from the date of handover of keys.
READ MORE ABOUT AFFORDABLE HOUSING:
"Penang continues to be the top hotspot of property growth and investment, other than Iskandar and Klang Valley, due to its strategic location in the region," said the consultancy firm.
Looking at the transaction performance last year, the state saw a drop of about 4,000 transactions compared with 25,555 units recorded in 2014.
In terms of segment, Penang's residential market continued to be the most active sub-sector in 2015, capturing 71% of the total volume of property transactions.
The commercial sub-sector increased to 10%, while the transactions of development land remained at a status quo of 7%.
The total value of property transactions in the residential sub-sector in 2015 registered a lower RM6,173 million, an 18.55% drop compared with RM7,579 million in 2014.
Transactions in the development land segment also saw a decline in value from RM2,752 million in 2014 to RM1,941 million in 2015. The commercial sub-sector, however, saw a slight increase to RM2,070 million in 2015.
Source: TheEdgeProperty.com.my