BUCG dropped from undersea tunnel project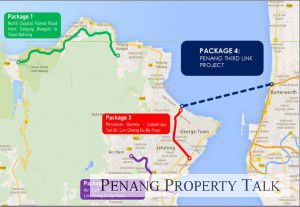 The Beijing Urban Construction Group (BUCG) has withdrawn from Consortium Zenith BUCG Sdn Bhd (CZBUCG) which is the developer for the RM6.3 billion proposed undersea tunnel and three paired roads projects in Penang.
Chief Minister Lim Guan Eng said CZBUCG sought the approval from the state government to do so in a letter dated Sept 1 and to change the name of the consortium to reflect the change.
He said the request was agreed to since there was no negative impact on the state as China Railway Construction Corporation Ltd (CRCC) remained the joint venture partner and the main contractor.
"All the projects will not be affected in anyway," he said in a press conference today while copies of the letter were distributed to the media.
In the letter, CZBUCG chairman Datuk Zarul Ahmad Mohd Zulkifli said the consortium was aware of the reputation of the company following the death of 24-year-old female after a crane hook fell onto her car in Jalan Raja Chulan last month as the development there was led by BUCG (M) Sdn Bhd.
"Zenith (CZBUCG) is of the opinion it is in the interest of the company and the Penang government that BUCG to be no longer involved in the tunnel and road projects," he said in the letter to the Penang State Economic Planning Unit (EPU).
Lim said his administration has told BUCG to take full responsibility on the incident or to withdraw from state projects and criticised the company for failing to contact the family of the victim.
"We do not want irresponsible contractors to work on projects in Penang, especially on the undersea tunnel," he said.
A feasibility study is currently being undertaken for the 7.2km undersea tunnel to link Gurney Drive on the island and Bagan Ajam on the mainland and is expected to be completed by end of 2016 or early 2017.
The road projects comprise a 4.2km bypass from Gurney Drive to Lebuhraya Tun Dr. Lim Chong Eu, a 4.6km bypass between Lebuhraya Tun Dr. Lim Chong Eu and Bandar Baru Air Itam and a 12km paired-road from Jalan Tanjung Bungah to Teluk Bahang.
Source: TheSunDaily.my