Unveiling Soon – Utropolis @ Batu Kawan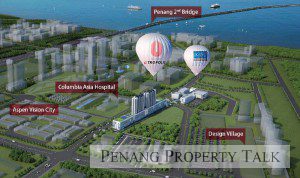 Following the highly successful Utropolis Glenmarie in Shah Alam, Paramount's visionary university metropolis will soon set foot in Batu Kawan, Penang.
Utropolis @ Batu Kawan is a 44.15 acres self-contained master-planned township anchored by a 15-acre new flagship campus of KDU Penang University College. Featuring a mix of freehold residential and commercial components including serviced residence, office & retail spaces and a hotel. The new township will offers a live-and-learn, work-and-play environment that promotes healthy learning and work life balance.
Located at the center of Batu Kawan – a district that is meticulously planned as a hub for leisure and entertainment, medical, education, tourism and technology. Its strategic location affords residents convenient access to major shopping, entertainment attractions and medical establishment namely the upcoming Design Village, IKEA and Columbia Asia. Not to mention the lifestyle retail shops within Utropolis Batu Kawan's lively premises.
Utropolis Batu Kawan enjoys easy access to highways. With direct linkage to North-South Expressway and Penang Second Bridge, it ensures smooth commute to your workplace, and also to attract daily flow of visitors from the many nearby developments.
Lifestyle Commercial Suites
Coming soon is the first phase of Utropolis Batu Kawan, showcasing two blocks of 18-storey studio towers and 196 units of commercial suites.
For those who look to start a small business and or first-time commercial property investment, the flexible lifestyle commercial suite offers various built-up size catering to different business needs and financial affordability.
Unit size starts from 400 sq.ft. onwards, comes with the flexibility combining multiple units to meet your space investment goals. For convenience and better hygiene, each unit will have its own toilet.
Need a more inspiring area? Its promenades and al-fresco cafes will serve wonderfully as meeting and working spaces.
Studio Lifestyle Suites
If commercial property does not match your investment appetite, stay tuned for the unveiling of the 612-unit studio lifestyle suites in the fourth quarter. With practical, open-plan layouts, the studio units are well suited to students, couples and young families.
Other than education within your convenience, the residential components will be complemented by the lifestyle commercial suites and the neighboring shopping and entertainment attraction within the walking distance.
To further instill the live-and-learn concept, a purpose-built private Smart School is also planned to be built within Utropolis Batu Kawan to offer Malaysian Curriculum following the best practices from the leading schools across the world.
Looking at the industrial and commercial developments in Batu Kawan's pipeline, the increase in commercial activities and the job opportunities will enhance its value as it matures into a full-fledged township.
Register your interest here to receive early bird invitation
Location Map: