Penang developers turn to special schemes and foreign investors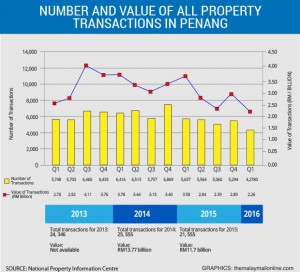 The slump in overall property sales in Penang has led developers to introduce special schemes to stimulate the market.
Senior general manager of IJM Land Berhad Datuk Toh Chin Leong, who is also Real Estate and Housing Developers Association (Rehda) Penang branch chairman, said IJM is now partnering with Alliance to come up with an income protection plan where house buyers will be covered by insurance against loss of income.
"This is insurance for house buyers so that if they lose their jobs or source of income, the insurance will cover the housing loan instalment so they do not have to worry about defaulting in their payments," he said.
He believes other Rehda members are also coming up with similar special schemes to attract buyers especially in the middle-to-middle high-income group.
Against the backdrop of a 70 per cent loan rejection rate for consumers, Penang-based developers are facing a lull in the property market that saw the lowest number of transactions in the first quarter of this year since 2011.
According to figures released by National Property Information Centre (Napic), Penang recorded a total 4,278 transactions in the first quarter of this year as compared to 5,637 in the corresponding period last year.
Even the total property transactions in Penang has dropped in the last two years, from 25,555 transactions in 2014 to 21,555 transactions in 2015.
Toh noted the slowdown in the market, especially in the last two months and possibly for months to come.
"Developers are concerned and we are looking at ways to weather through this so Rehda is initiating discussions with Bank Negara to relax its lending rules, especially for first-time home buyers in the middle-to low-income group," he said.
Toh said they are also in the middle of discussions with the Penang state government to reduce compliance costs so as to reduce the burden faced by developers in the state.
"Buyers of high-end properties are adopting a wait and see attitude so properties priced above RM500,000 are most affected while properties below RM500,000 are still in high demand but these buyers are not able to get loans," he said.
In Penang, the amount of property overhang or unsold units is rather low as compared to the number of properties launched; a total 5,334 units were launched in the first quarter of this year and only 1,218 units were unsold.
Napic statistics reveal that a majority of the unsold units in Penang, more than 85 per cent or 1,040 units, are for properties priced above RM400,000.
"The market is now soft so those who can get loans are the ones who can afford to wait because these will be people who are in the high-income bracket and looking at million ringgit properties as investments," he said.
As a result, he said many developers are also becoming cautious in launching their projects and reducing the number of project launches for now.
Fiabci Penang chairman Datuk Khor Siang Jin concurred that the industry is facing a slowdown but believes the Penang property market will remain resilient against the lull.
"We will be able to weather through this because in Penang, the property market will not be so bad that developers can't recover from it," he said.
For now, he said developers can market their projects in the international market to attract foreign buyers instead of focusing only on local buyers.
"We must also follow the market conditions, like our project in Kepala Batas that has properties at below RM400,000… it is doing very well, in fact, our sales were RM100 million, it was a very good margin," the Hunza Properties executive director said.
Hunza has over 700 acres of land in Kepala Batas and more than 350 acres have been developed with a view of further developing the remaining land soon due to the high demand, he added.
"We still have high demand for residential properties, about 7,000 to 8,000 units each year, so Penang will be just fine," he said.
He admitted that the main issue now is not in the demand but it lies in the high loan rejection rate that stands at 70 to 80 per cent.
"We really need Bank Negara to relax its lending rules otherwise, it will be hard to overcome this problem," he said.
Meanwhile, Fiabci Malaysia vice president Michael Geh pointed towards the unusual delay of the advertising permit and developers license (APDL) approvals for Penang projects by the Urban Well-being, Housing and Local Government Ministry.
He said the housing market in the state is also slightly affected by the delay as without the APDL, house buyers can't sign the sales and purchase agreements and apply for housing loans.
While both Khor and Toh agreed there was a delay in the APDL, they said it only affected certain projects while some projects have obtained their approvals upon appeals.
"Rehda Penang is now compiling the number of projects affected by the delay in APDL approvals and once we have the latest figures, we will submit an appeal to the housing ministry to speed up the approvals," Toh said.
Since 2014, the number of different projects affected by delays in the approval of APDLs total up to 100.
Source: TheMalayMailOnline.com