Live The Life At The Tamarind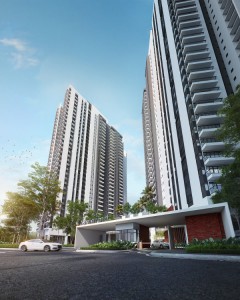 Young professionals coveting the cosmopolitan lifestyle at Penang's most desirable address can now see their dream realised.
The Seri Tanjung Pinang lifestyle as created by E&O is one that is coveted by Malaysians and foreigners alike, property investors or just regular folks looking for a superb environment to live in. Presenting an opportunity for this aspiration to come true, E&O launched its first executive apartments, called The Tamarind.
The Tamarind is sited on a 7-acre freehold parcel of land located within Seri Tanjung Pinang Phase 1, 5 minutes walking distance to the 4-acre Straits Green public park, Tesco and Straits Quay.
The Tamarind's largest typical unit size of a three bedrooms and two bathrooms measures at 1,372 square feet and is competitively priced at a net selling price from RM884,000 upwards. The Tamarind features two blocks of 33 storeys comprising 1,104 units in total.
As in other signature developments by E&O, what sets The Tamarind apart is the design of its unique facilities for residents which includes a private 1-acre waterscape of beach and freeform swimming and wading pools for the residents to enjoy.
E&O is delighted to introduce its first executive apartment project that is in line with E&O's brand strategy of developing properties that are premier in every segment. The Tamarind is an ideal home for executives with young families living and working in Penang. It is superbly situated within the 240-acre Seri Tanjung Pinang development, a premier and highly sought after residential address, now a vibrant community which is home to over 2,000 families of more than 20 nationalities.
Since Seri Tanjung Pinang's maiden launch of courtyard terrace homes to pioneer purchasers in 2005, E&O continues to build on its proven track record of delivering innovative concepts to meet the aspirational needs of discerning individuals.
Please visit the STP Sales Gallery to find out the attractive packages offered and to collect your special gift from 8 to 15 September 2016, in conjunction with the Mid-Autumn Festival.
The Sales Gallery & Show Units, Seri Tanjung Pinang, Tanjung Tokong, 10470 Penang.
Tel: 04 890 9999
Website: www.thetamarindpenang.com