Penang state govt mulls rent control to ensure reasonable rental rates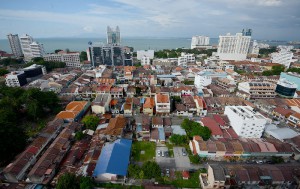 Concern over rising rent in the George Town Heritage Zone has prompted the Penang government to consider reimposing rent controls like the repealed Rent Control Act 1966.
Chief Minister said this was to ensure the Unesco recognised site was not adversely affected by gentrification.
He was quick to add his administration did not want to meddle in the open market but wanted rental rates which were fair, neither to high above the market or to low below the market.
"We want reasonable rental rates, not unreasonable rental rates," he said in a press conference today.
Before imposing such controls, Lim said the legal details must be worked out as it was unclear whether the state or federal government had jurisdiction over such matters.
He noted the repeal of the Act in 1997 was done by Parliament invoking Section 76 of the Federal Constitution but pointed out rents was under the State List of the Federal Constitution.
He said the state will be seeking legal opinions from the state legal advisor and will also refer the matter to the Attorney General's Chambers.
He added that Housing, Town and Country Planning Committee chairman Jagdeep Singh was tasked with the legality of such controls while Local Government, Traffic Management and Flood Mitigation Committee chairman Chow Kon Yeow was to garner feedback from the public.
theSun contacted Penang Chinese Chambers of Commerce (PCCC) Heritage and Tourism Division head Michael Geh who said rent control suppressed the rights of property owners.
He said any such legislation should not only protect the interests of the tenants but also the interest of the owners.
Penang Heritage Trust (PHT) council member Himanshu Bhatt told theSun the first wave of gentrification started after the Act was repealed while the second wave came when George Town was declared a heritage site in 2008.
The former journalist who covered such issues in 1997 said the state must now take stock of the intangible heritage, like living communities, which was lost through the years.
Source: TheSunDaily.my