Poring over Penang Transport Master Plan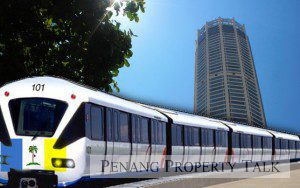 Members of the Penang Transport Council (PTC) have been divided into two working groups to study the Penang Transport Master Plan (PTMP).
Its chairman Chow Kon Yeow said one group would study the transport issues of the PTMP while another group would study the master plan of the three proposed man-made islands in the southern coast of the island.
"A meeting is scheduled on Tuesday when these members would provide input and views on matters such as economic forecast, population and others on the PTMP.
"They would deliberate on whether tram is preferred over LRT, and the land use on the man-made islands.
"They have been given two weeks to study the matter after receiving concise version of the Request for Proposal (RFP) documents, and some of them even came to our office to get extra documents.
"Among them who came to our office to look at the whole stack of reports were Penang Island city councillor Dr Lim Mah Hui and blogger Anil Netto," he said.
Chow told reporters after speaking on the 'Penang Transport Master Plan and its impact on the local industries' at an industry workshop at the auditorium, Ivory Tower in Penang Times Square.
The workshop was organised by Henry Butcher Malaysia (Penang) in partnership with KPMG, and sponsored by Ivory Properties Group Bhd.
Chow said they were targeting conditional approval from Land Public Transport Commission (SPAD) for its plans and Detailed Environment Impact Assessment (DEIA) for the Komtar-Bayan Lepas Light Rail Transit (LRT) next month.
He said once they have secured approval, a three-month public exhibitions would be held to gather public feedback on the matter.
"We have identified several places for the exhibitions, among them are the third floor in Komtar and the Sungai Nibong bus terminal.
"We will also hold exhibitions at places along the LRT alignments. It will inform the public on which housing units would be affected and more details on the LRT stations.
"The public can still provide feedback by writing to us," he said.
Chow also said at least five 'park N' ride' facilities would be provided at five out of the 28 LRT stations along the Komtar-Bayan Lepas LRT line.
"Car users can park their cars at themulti-storey car parks near the LRT stations.
"Besides, we are also looking at the feeder system to be carried out within the 3kmradius at each of the LRT and monorailstations to ensure connectivity for the public transport system.
"We will try to connect the public from their workplace and residences to eachstation," he said, adding that they wouldcapture a high ridership within the 3kmradius, such as passing through residential areas with high population.
The 30km Bayan Lepas LRT starts from Komtar in the northeast corner of the island, passes through Jelutong, Gelugor, Bayan Lepas and Penang International Airport before ending at the proposed Penang South Reclamation development.
Ivory Properties executive director Datuk Ooi Chin Loo, in his speech, said theywelcomed and supported the implementation of PTMP.
"An integrated public transport system and better accessibility are crucial factors for Penang," he said.
Other speakers at the workshop were investPenang director Datuk Lee Kah Choon, KPMG northern region partner-in-charge Ooi Kok Seng, Penang Institute chief executive officer Dr Lim Kim Hwa and Maybank Investment Bank group chief economist Suhaimi Illias.
Source: TheStar.com.my