Eco World eyes Batu Kawan land for RM6bil project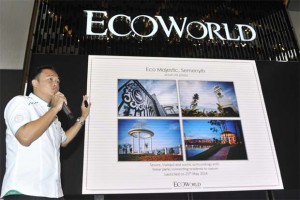 Eco World Development Group Bhd is said to be eyeing a 300-acre leasehold site in Batu Kawan for a RM6bil mixed development project to be launched next year.
Sources told StarBiz that the group could fork out up to RM700mil for the property, estimated at over RM50 per sq ft (psf) to Batu Kawan Development Sdn Bhd (formerly Abad Naluri).
It is learnt that the deal, which has been in negotiations since last year, is likely to be inked soon.
That same piece of land was of interest to Malton Bhd a few years ago. It was supposed to develop it on a joint-venture basis. In 2012, Batu Kawan Development inked a deal with Silver Setup Sdn Bhd (SSSB), Malton's indirect subsidiary, to develop a RM3.8bil township on that 300 acres.
The agreement allowed SSSB to fund the project and hold a 82% stake of the GDV, while Batu Kawan Holdings was entitled to 18% of the GDV, subject to no less than RM300mil.
However, there has been no update on the development which was supposed to start in 2014.
According to Malton's 2015 annual report, no significant property development work has been undertaken by SSSB as at June 30 last year.
As for Eco World forking out more than RM50 psf for it, local property players in Seberang Prai consider it "fair", although it is more than the RM45 psf big property deals done in Batu Kawan two years ago.
If the acquisition is completed, the development will be a major project for Eco World in Penang next year. It is likely to be a mixed development scheme comprising largely landed properties (70%) and commercial units (30%).
The group is planning for sizeable landed properties with competitive pricing.
It is learnt that Eco World will also be re-submitting its tender to state-owned Penang Development Corp (PDC) for the 450-acre leasehold land in Batu Kawan for RM790.93mil.
Last week, Eco World announced that it was rescinding the letter of award for the proposed RM10bil Eco Marina mixed development project on the 450-acre parcel as the proposed scheme requires a larger acreage for the 18-hole golf course, thus adversely impacting the viability of Eco Marina.
In the new tender to be called by PDC, there will be fresh conditions for bidders to acquire more land in Batu Kawan from the state government so that they could build the 18-hole golf course.
Eco World is well positioned to win the tender as it has already in hand a completed feasibility report to develop the site, which the group had earlier prepared for the previous tender.
In Seberang Prai, Eco World is involved in the development of EcoMeadows (GDV RM918mil), a 60-acre gated-and-guarded strata development in Simpang Ampat.
Eco World expects its projects in Penang to generate about RM300mil this financial year ending Oct 31, 2016, compared to RM200mil the previous year.
Previously, Eco World general manager Khoo Teck Chong had said that the targeted revenue for the 2016 financial year is RM4bil, compared to RM3bil in 2015.
The contribution from Penang would come from Eco Terraces in Paya Terubong, which is 40% sold, the remaining units of Eco Meadows first phase, and Eco Bloom, which are scheduled to be launched in August.
Eco Terraces and Eco Bloom are priced respectively at over RM850,000 and below RM400,000.
Source: TheStar.com.my