The rise of Aspen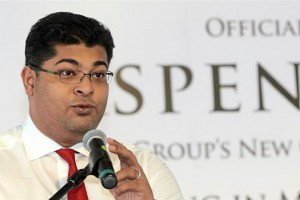 If the planned reverse takeover (RTO) of tile manufacturer Yi-Lai Bhd goes through, it would see the entry of one-up-and coming property developer from Penang, Aspen Vision Group and its co-founder Datuk M. Murly into the capital market.
Murly is becoming well known in property circles for his Aspen Group, which made the news two years ago when it inked a deal with IKEA franchisee Ikano Pte Ltd and the Penang Development Corp (PDC) to embark on a massive RM8bil property project in Batu Kawan, Penang called Aspen Vision City (AVC).
When contacted, Murly declined to comment, noting that the RTO negotiations with Yi-Lai were still ongoing.
The 30-year old Murly has been in the property market for more than 10 years.
He started his career with Ivory Properties Group Bhd at the age of 19 as a technical assistant. At the age of 25, he was promoted to be chief operating officer and executive director of Ivory.
He founded Aspen Group in 2013 with his partner Datuk Seri Nazir Ariff, who was formerly the deputy chairman and executive director of Ivory Properties.
On the AVC project, it is a 80:20 partnership between Aspen and Ikano on 245 acres of land in Batu Kawan, spanning over 10 years.
The property project will involve a 24-acre IKEA outlet, near the second Penang bridge, in the Seberang Prai side. The IKEA outlet is expected to be completed in 2018 and will be run and owned by Ikano.
Ikano is the owner and operator of the IKEA franchise holder in Singapore, Malaysia and Thailand.
The AVC project is part of the enlarged 6,000 acres Bandar Cassia, Batu Kawan's township project under the Penang state government's master plan.
There are other developers, such as Eco World Development Group Bhd, Belleview Group and Paramount Corp Bhd involved in the Batu Kawan development with PDC.
Aspen has other projects aside from the AVC. Earlier this year, the company launched RM1.4bil worth of property projects, namely the first phase of AVC project worth RM620mil, RM135mil mixed-development Beacon project in Sungai Pinang and the RM637mil HH Residence scheme in Tanjung Bungah.
Yet another project is the RM700mil Nouvelle Residence in Subang, which it plans to launch in 2017, made up of condominum units.
Prior listing plans in Singapore
Just months ago, Murly was quoted as saying that he was seeking to float Aspen on the Singapore Stock Exchange.
Banking sources say that this plan did not materialise, which explains the move to reverse Aspen into Yi-Lai.
According to sources, one of the reasons why Aspen didn't proceed with the listing in Singapore was related to a ruling there that discourages the use of listing proceeds outside Singapore.
Bankers say that Aspen was also looking to apply for an initial public offering on Bursa Malaysia but decided on the RTO route instead.
In February, Yi-Lai announced the RTO plan by Aspen, in a deal worth RM550mil. In return for Aspen's business, Yi Lai will issue RM450mil of new Yi-Lai shares at an issue price of RM1 each and RM100mil cash.
The price of the new share issuance represents a premium of 22.3% over the 5-day volume-weighted average market price of Yi Lai shares up to Feb 23.
Notably, Yi-Lai said the proposed acquisition would enable existing shareholders to participate in a "new, viable and profitable core business in property development" through the Aspen group.
"The diversification of the core business of Yi-Lai into property development will be a synergistic downstream fit for Yi-Lai's existing tile manufacturing business," it says.
Yi-Lai had entered into a heads of agreement (HoA) with Aspen and Setia Batu Kawan Sdn Bhd for the proposed acquisition.
Shares in Yi-Lai were last traded at RM1.02 a share, giving it a market capitalisation of RM161.5mil with forward price-earnings ratio of 14.57 times.
The company has no borrowings and is sitting on a net cash position of RM48mil as of fourth quarter Dec 31, 2015.
Yi-Lai said it would fund the Aspen acquisition via internal funds and bank borrowings.
The Penang connection
Interestingly, about 31% of Yi-Lai is owned by Aaron Tan, who is the nephew of Datuk Seri Robert Tan Chung Meng of the IGB Corp Bhd.
The 31-year old Aaron emerged in Yi-Lai in May 2014 after his vehicle Hampton Capital Pte Ltd bought the stake in Yi-Lai from the founding family at RM1.30 a share.
Tan, along with Singaporean Wendy Kang, have substantial shareholdings in Hampton Capital and thus indirectly hold 31% in Yi-Lai.
Following to the purchase, Aaron was appointed as executive director of Yi-Lai in June.
According to Yi-Lai's filings, it has 90 days from the announcement date of Feb 26 to come up with the definitive agreement between the parties for the RTO exercise.
Source: TheStar.com.my