Sunway introduces Sunway Property Certainty Campaign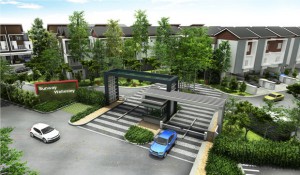 Sunway Bhd introduced special offerings under its Sunway Property Certainty Campaign yesterday, which includes financial assistance.
The campaign – which will offer guaranteed loans, deferred payment plans and a voluntary exit plan – covers all Sunway projects in Malaysia from today until Sept 31.
"We are still seeing demand for good and well-located properties in the market. People are looking to upgrade, invest and own a home in a well-planned environment," said Sunway Malaysia and Singapore property development division managing director Sarena Cheah (pictured).
"However, with the uncertain times now, the timing of people's commitment in properties is something of great concern," she added.
Sunway's property portfolio covers mid-to-high-end properties in the Klang Valley, Penang, Ipoh and Johor. The developer also has a presence in Singapore and China.
It will launch Sunway Geo Residences 3 – which has a gross development value (GDV) of RM420 million – next month, and plans to launch Brook Residences (RM200 million GDV) in Mont'Kiara and new phases in Sunway Gandaria (RM200 million GDV) in Bangi.
According to Sunway Integrated Properties Sdn Bhd marketing and sales general manager Gerard Yuen, the guaranteed loan scheme is a 12:88 plan, with Sunway providing financing of up to 88% of the property price from its internal funds.
The loan will have a fixed interest rate based on a commercial basis.
He said to qualify for the loans, applicants must be above 18 years old and not bankrupt, among other things. The loans are available to both Malaysians and foreigners.
"For homebuyers who meet the basic criteria, we are happy to assist them by providing a certainty package, enabling them to own their dream home with a greater sense of comfort," said Yuen.
"We are not trying to play the bank's role, we just want to assist those who want to buy a Sunway unit but are having temporary financial difficulties," he stressed.
Meanwhile, the deferred payment scheme offers zero payment for a period of 12 or 24 months following a deposit of 3% or 6%.
The voluntary exit plan allows buyers to withdraw from the sale and purchase agreement owing to unforeseen circumstances such as loss of employment.
Source: TheEdgeProperty.com.my