EcoWorld Property Showcase @ Queensbay Mall (26 March – 3 April 2016)
EcoWorld would like to cordially invite you to  'Bringing Aspiration Close to You-EcoWorld Property Showcase' from the 26 March to the 3 April 2016, from 10.30 am to 10.30 pm at Queensbay Mall, Central Atrium. Catch an exclusive preview of our much anticipated masterpiece-Eco Bloom which is  a continuity of the modern English Architecture language of Eco Meadows and is made up of the majestic high rise and the commercial components. Enveloped in carefully preserved greenery, this current addition to the Royal Meadows collection continues the EcoWorld legacy of offering stunning homes in refreshingly verdant and prestigious surroundings.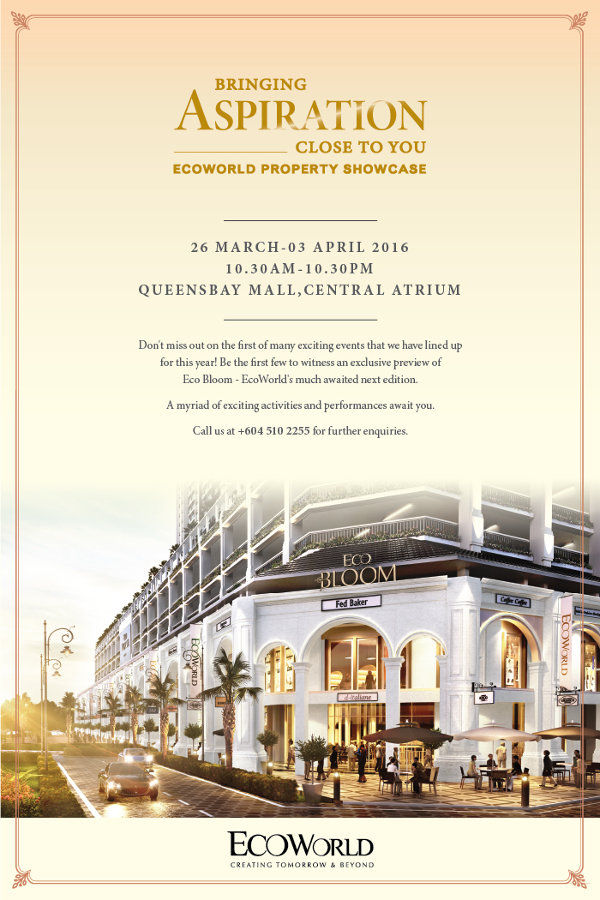 Also be sure to check out some of the exciting activities EcoWorld has prepared for you!
26/03/2016
Opening Orchestra Ceremony
Eco Bloom Project Sharing
27/03/2016
Franchise business sharing by Mr Albert Kong (CEO of Asianwide Franchise Consultant Singapore)
3/04/2016
Commercial Property Investment Talk by Ahyat Ishak
Looking forward to seeing you soon!
More info at 04-510 2255