The Butterworth Action Plan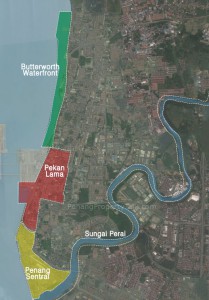 Building a better Butterworth
Four more areas in Butterworth will be restored under the New Butterworth Image Plan following the extension of the partnership between the Seberang Prai Municipal Council (MPSP) and Think City.
A Memorandum of Under-standing (MoU) was signed between both parties for a five-year partnership from this year till 2020.
Think City executive director Hamdan Abdul Majeed said the partnership was a continued effort to implement more programmes.
"Following a successful partnership in 2014 and last year, we will continue working together with MPSP to improve Pekan Lama, Sungai Prai, Penang Sentral and Butterworth Waterfront," said Hamdan.
"This is an extension of our work in Penang, which started in George Town.
"We see potential growth in both George Town and Butterworth and this is in line with Think City's intent to support the rejuvenation of heritage sites.
"In Butterworth, we will be supporting urban renewal works through public participation.
"We will also be assisting MPSP in providing technical expertise, bringing stakeholders together for engagement and working with them to secure crowd funding.
"The public places that have been identified include the Dewan Ria community facilities, Old Public Market, Jeti Lama historic quarters and Taman Pantai.
"The partnership will also look into realising potential land use, celebrating historic Butterworth and helping to make it a vibrant and liveable city."
Hamdan was speaking after the signing of the MoU yesterday with MPSP president Datuk Maimunah Mohd Sharif, who represented the council.
The signing was witnessed by Chief Minister Lim Guan Eng.
Maimunah said the collaboration between Think City and MPSP last year saw the first ever international arts festival in Butterworth — the Butterworth Fringe Festival which attracted over 18,000 people.
"We also held the Urban XChange programme by Hin Art Gallery resulting in three new art installations in Butterworth.
"They are the Star by Jun, the caretaker of Pak Thai by Vhils and the 3D Mandala mural by Nafir.
"Six Seberang Prai Stories lecture series were also organised in a joint effort with the Penang Heritage Trust at various places in Butter-worth," Maimunah said after the signing.
At a press conference later, Hamdan urged the public, including those with property and heritage buildings in the targeted vicinity, to apply for funds from Think City's grant programme to help restore the old Butterworth town.
"The deadline for applications is the end of this month.
"We hope that by April, the funds will be ready," he said.
He said interested applicants could log on to thinkcity.com.my to apply.
(This article was published on 09/01/2016)
Source: TheStar.com.my