A challenging Fire Monkey year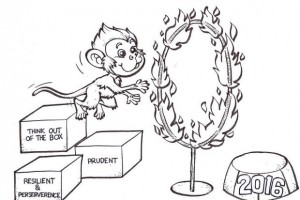 AS the Fire Monkey swings in to take its place, many have predicted this year as a challenging one. So, what's in store for everyone in this particular year?
Many came to me for advice on how to deal with this challenging period. Frankly speaking, I am not a feng shui master or an astrologist who can somehow predict the future. Neither do I know how to read a crystal ball and tell you what lies ahead. Having been through a few round of recessions and bad times during my early days, I can, however, only share my own experiences and observations.
As shared in my last article "Lessons from my father", I have learnt how to live frugally since young from my late parents. I recalled starting up my own architectural firm at the worst possible time. The year was 1964, and it was during the time of the Malaysia-Indonesia confrontation. The country was experiencing an economic recession and it is not hard to imagine how tough it was to make a living. I basically lived on "char kuey teow" as my lunch for two years! Being frugal and practising delayed gratification somehow helped me sail through that rough period.
While it is wise to spend prudently, it is even wiser not to be in debt during times of uncertainty. I read an article which highlighted that Malaysian household debt as of August 2015 was 88.1% of gross domestic product against only 60.4% in 2008. The figure was among the highest in the region. It is rather alarming considering most young people tend to be indebted with at least a car and a huge outstanding of credit card and personal loan repayment.
It is important not to put ourselves in a vulnerable financial situation, in order to face the challenges ahead. Most items purchased with the use of personal loan, credit card and hire-purchase are likely to depreciate over time. As a result, if repayments are not made on time or at all, these items with depreciated value becomes a loss. Such loans are then dubbed as "bad debt". A "good debt" is one that brings returns. It is time to re-look into our debt categories and reallocate our resources appropriately.
Conserving funds, while important, is not enough to withstand the inflation impact. It is therefore crucial to invest to fight inflation especially monetary inflation (money printing) which is a real problem in today's world economy and is currently also causing asset inflation to continue. It is difficult to know the best form of investment during uncertain environment. However, I believe each of us has areas of expertise, and we should focus on those areas.
If you are planning to own a property, a good inflation-hedging tool, do creative searching for your dream home.
Muhamad Azree Abdul Rahim, a 26-year-old Malaysian, solved his problem of owning a property by thinking-out-of-the-box. He turned a used shipping container into his home by taking a RM75,000 loan and buying a plot of 2,400 sq ft land some 25km from Shah Alam. He was able to build a decent, fully-functional home with a garden next to it. His unconventional way of building his own house without being manacled to a 30-year housing loan is something that we should learn.
While everyone would love to stay near to the city centre and preferably, own a big comfortable home, we need to be realistic in order not to be financially overstretched. Start with a smaller home, and buy a home that you can afford, not what you like. It is absolutely fine if you chose a house next to the last MRT station, far away from KL city centre, as long as you find it easy to commute. No point being near the city yet having to endure the daily routine of traffic madness and at the same time, forking out a large sum beyond your means.
In the 1986 recession (the worst recession that I could remember), I had a team of 20 sales team members. Instead of waiting for customers to drop by our office, we went door-to-door and street-to-street to look for customers. Imagine swimming against the current, you may feel very tired and exhausted, but at least you are few steps nearer to your destination and you become a much stronger person. Hence, building resilience and perseverance in weathering the storm during challenging times is just as important.
Back to the year of the Fire Monkey, I realised that there are similar characteristics that we can learn from those who are born in the year of the Monkey. According to Chinese zodiac analysis, monkey is the mnemonic symbol associated with intelligence, creativity, perseverance and flexibility. Perhaps, take the cue from the monkey and brave through this challenging year by applying some of its traits.
> Datuk Alan Tong has over 50 years of experience in property development. He was the World President of FIABCI International for 2005/2006 and awarded the Property Man of the Year 2010 at FIABCI Malaysia Property Award. He is also the group chairman of Bukit Kiara Properties. For feedback, please email feedback@fiabci-asiapacific.com.
Source: TheStar.com.my