Aspen Group sets RM1 bil sales target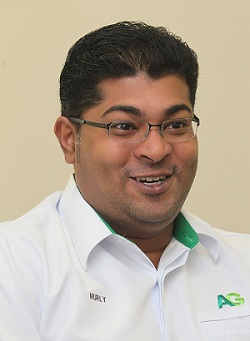 Penang-based Aspen Group has set a sales target of RM1 billion this year after recording sales of RM900 million last year.
Aspen Group CEO Datuk M Murly (pictured) said the target will be achieved through four launches worth more than RM2 billion this year, including its maiden venture outside the island state.
"This is a remarkable record for a relatively new name in the industry considering most established players and financial analysts also recognised that 2015 has been a very challenging year for the property industry," Murly told members of the media at a briefing in Penang today.
"We are cautious but optimistic about the prospect for 2016 and anticipate it will continue to be a challenging year for the property sector."
The four upcoming launches include three projects in Penang, namely Vertu Resort condominium in Batu Kawan, Beacon mixed-use development in Georgetown and HH Residence mixed-use development in Tanjung Bungah; and Nouvelle Residence condominium in Subang, Selangor.
Vertu Resort is the second phase and first residential development in Aspen Vision City. It will be open for preview from Jan 22. With a gross development value (GDV) of RM620 million, this project is slated for completion in 2019.
Beacon, meanwhile, offers commercial and residential units. It has a GDV of RM135 million.
The 4.5-acre HH Residence has a GDV of RM637 million, and comprises commercial units and a residential tower.
Nouvelle Residence sits on an industrial plot of land in Subang Jaya, Selangor. Aspen Group is in the process of converting the land title to commercial use for a high-rise residential development. Located next to Tropicana Metropark, the project has a GDV of RM700 million.
"We are looking at our second piece of land in the Central region, which is in Kajang but nothing is finalised," Murly said. "We are also in talks for two overseas projects, one in Northern Bangkok and another one in Manila. They are both JV projects."
Source: TheEdgeProperty.com.my