Ivory targets completion of Penang Times Square by 2020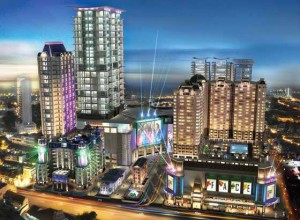 Ivory Properties Group Bhd hopes to complete all the five phases of Penang Times Square by 2020.
COO Goh Chin Heng said the group is waiting for approval to start phases four and five by year-end.
"We hope to commence work by the first quarter of next year concurrently," he told reporters after the company's EGM yesterday.
Goh said the components of the two phases include business hotels , serviced suites and retail outlets. The group has identified parties interested in some of the components in the two phases.
"We are talking to some interested parties who want to buy the hotels, which are among other components in Phase 4 and 5 of PTS," he added.
In a statement to the media Ivory Properties said it has obtained approval from its shareholders during the EGM for the sale of a plot of land worth RM150 million to another company.
The transaction for the 21.77ha of freehold land in George Town was finalised in January this year between Ivory Indah Sdn Bhd and Jesselton Peak Sdn Bhd.
The net gain for the group from the disposal is RM38 million, which will be recognised upon completion in December 2016 in the financial year ending March 31, 2017.
Source: TheSunDaily.my