20 Most Active Projects in Penang (October 2015)
If you ever wonder how well are the affordable housings doing in Penang, take a few minutes going through the chart below. These are the top 20 most active projects in Penang, based on the total number of project page views we have received in October 2015.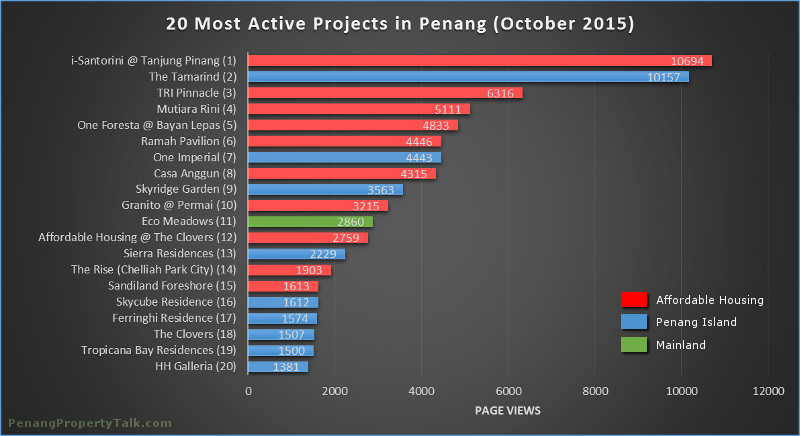 With the introduction of new measures by the state government to ease affordable housing application and development, a significant increase of interest and activities in the affordable segment is observed. This is particularly evident in the Island where almost all of the affordable housings that are currently open for registration are in the top 20 list.
* Full list of affordable housing in Penang *
On the flip side, the environment has become one of the key challenges for condominiums in the mainland, especially for those units selling in the same price range as the affordable housing in the island. With an increasing supply of affordable housing in the pipeline, the situation is expected to continue over the medium term.
For developers in the mainland, the promotion designed to stimulate the demand needs to be changed and the choice of marketing strategy to establish a differential advantage has to be made.
Just for the record, Eco Meadows is the only project in the mainland that managed to squeeze itself into the top 20 list last month with the aggressive promotion by EcoWorld. This is a gated and guarded development situated on a 75.7-arce land in Simpang Ampat. The initial phase of Eco Meadows comprises 375 units of 2-storey terrace houses and a 2-storey resident clubhouse.
– Ken Lim
(Founder and Principal Reviewer, PenangPropertyTalk.com)