Wanted to Buy More Properties?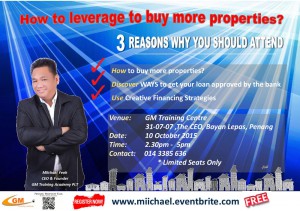 Listen to Miichael Yeoh on how to leverage in order to buy more properties.
Miichael is no stranger in the property industry. He has spoken for numerous developers and property exhibitions in and out of Malaysia. His articles are frequently featured in magazines and newspapers.
He has worked for prominent companies such as Standard Chartered Bank, Hong Leong Bank, HSBC, Prudential and Hwang DBS Unit Trust. Miichael is backed by 19 years of industrial experience. 8 years ago, he packed his bag and left the corporate world to start his own consultancy company.
Today he is the founder and CEO for GM Training Academy PLT. Miichael will be sharing his 19 years' experience in the seminar.
If you would like to know
How to buy more properties?

Discover ways to get your loan approved.

Using creative financing strategies
Do not miss Miichael's 2.5 hours talk. Oh ya, it is FREE!
To register please go to https://miichael.eventbrite.com