Penang property market getting bigger and exciting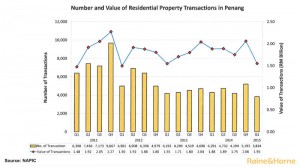 by Charles Tan
I think Penang property market is starting to get more advanced. There was a time when developments were just a few hundred million in terms of gross development value (GDV). Then the bigger players arrived and bought huge pieces of lands. There are now more integrated developments. On a yearly basis, if we use Q1 2015 as a benchmark the total transactions in terms of amount would be around RM6.2 billion. Do refer the attached image. Well, according to a report in a local daily, the total new launches in Penang by the major property developers are up to RM16.3 billion. All these launches are supposed to be launched within the next two years despite the current negative overall environment.
This RM16.3 billion of new developments include GDVs from IJM Land Bhd, Eco World Development Group Bhd and Sunway Bhd with RM4 billion, RM10 billion and RM2.3 billion respectively. As for those with existing developments, they include Mah Sing Group with RM2.09 billion GDV, Tambun Indah Land Bhd with RM4.1bil and Penang's very own Ivory Properties Group Bhd with a GDV of RM2 billion. Yes, these would be just the major ones and there are still many other smaller ones. These new integrated developments are getting popular because many buyers are now exposed to all these lifestyle products. As for the developers, due to these developments being integrated, they are able to have the best of both worlds; residential and retail portions.
I think it's great that majority of these developers are big names. They would definitely have deeper pockets and should be able to still continue launching these projects and attract many of their loyal buyers. As for investing in properties, it should always be for the long term. Based on the high loan rejections thus far as per many property players there, I think the market remain healthy and should have a more orderly price adjustments for both the developers' launching price and buyers' more objective assessments. Gone are the days when launchings in Penang meant queues which form days ahead. In fact Penang is having many new affordable projects from both the state government and private developers that I think would definitely have cooling effects which will benefit Penangites too. In the meantime, if you need a home, anytime is a good time to buy. Just buy within your means.
>> This guest article comes courtesy of my friend, Charles, the founder of kopiandproperty.com. He is popular for sharing his thought on property investment mostly based on his own 12 years experience as well as from all the readings and conversations with property gurus in the industry. (Source)