VST Group – Providing Quality Lifestyle
Commitment from the Group Managing Director
Dato' Yeoh, the Group Managing Director of VST Group once said,"Our customer is our boss' BOSS!" This statement generally resonates well with many people however when these words are uttered by the captain itself, steering the iconic ship through an ocean of vast opportunities then you know that it's certainly in the right direction.
Customers, after all, are kings and if they are treated with sincerity, they tend to show a greater level of appreciation and demonstrate the kind of trust expected when contemplating the choices that they have in their hands.
Dato' Yeoh's success formula is simple, primarily based on one word – SINCERITY. And when you combine SINCERITY and INTEGRITY, you have a comprehensive ingredient for success.
More Than 20 Years of History
What started originally as a family business, their humble beginnings can be traced back to 1990 when it was established as an investment arm with properties and land in Penang Island, Seberang Perai Tengah, Perak, Selangor, Kuala Lumpur and Terengganu. Their core business activities include construction, property development, interior fit-out and investment.
Over the years, they have been engaged to build schools, hospitals and even universities apart from residential areas. It is clear that VST Group's approach is to extend their product offerings beyond urban living.
The wide array of product offerings and enriching experience does indeed allow greater diversity in their thinking and approach towards engaging the customer on a more effective level.
Awards of Honesty and Excellence
Rome was never built in a day and neither is reputation developed overnight. With a consistency of expounding the vision of "Providing Quality Lifestyle" for the last fifteen years and translating that vision into reality, VST Group's efforts and the hard work of its team has been appreciated in the form of the awards they have received in the past which includes 2012 Asia Pacific International Honesty Enterprise Award and 2011 Asia Pacific Entrepreneur Excellent Award.
The 2012 Asia Pacific Award recognizes the operating and managing style of an enterprise, its reputation as well as public image in the market. It is also a vital indicator when entrepreneurs choose their strategic partners or when consumers make their purchasing decisions.
On the other hand, the 2011 awards is primarily a reflection of the organization's strength and its stability in the market, coupled with an excellent performance in all areas or which have pioneered and made significant contributions towards society.
Core Focus in Improving Quality Lifestyle
Providing quality lifestyle encompasses the challenge of consistency in providing quality products so as to ensure there is a growing pool of satisfied customers. The emphasis on quality has allowed VST Group to build a stable group of core customers who share the belief of their products offering.
With the core focus in improving the residents' lifestyle, VST Group continue to find innovation in the product offerings yet continue to enhance the quality of the products itself. In order to seek innovation, there is a consistent need to invest in construction technology of the future. Coupled with innovative green features in their projects, they are armed with the right kind of tools to challenge the current status quo.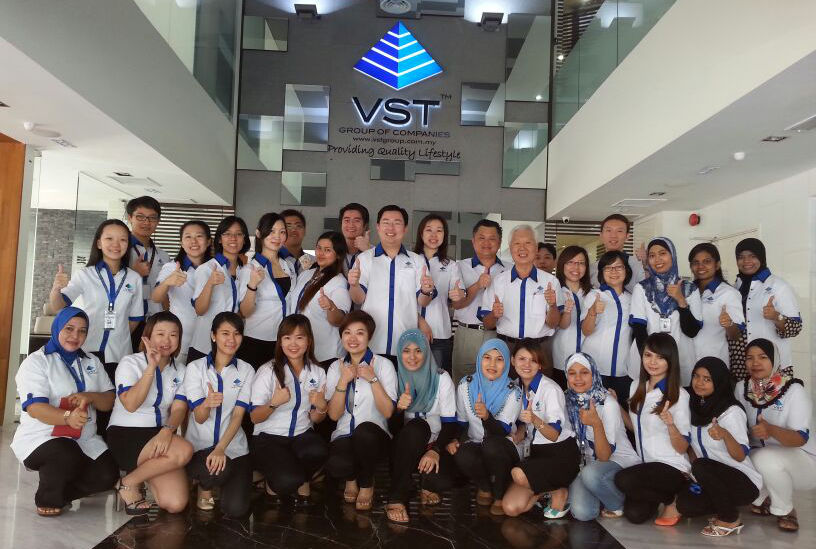 A Company that Last for Generations
On the other hand, building a company that would last for generations is a compelling reason why VST Group continuously seeks to improve themselves in many different ways as the competitive business environment heats up. Yet the vision of building a company for tomorrow only serves to spur VST Group to arm themselves with the necessary tools to compete in a vast sea of opportunities.
The sky is never the limit yet this philosophy is very much embraced in a whole hearted manner by continuously seeking to expand beyond their existing boundaries. After all, the only way to excel and move forward is to learn how to challenge yourself to explore the boundaries that might stifle your own creativity and efficiency. VST Group's mantra seeks to see things differently as a multi prong approach towards a comprehensive and holistic understanding of the subject matter in question.
With the best ideas in mind and the most elaborate strategy on paper, it is fundamentally the flawless execution that will determine the success of a grand scheme of things. Therefore VST Group's continuously emphasize that only the best people are to be hired to join their organization.
Latest Projects & Beyond
VST Group's latest projects include Mont Residence (Mount Erskine, Penang) which will be officially launched soon. VIM 3 at Desa Park North (KL) and Reizz Residence at Jalan Ampang (KL) are now open for registration and getting a very good response from the market. There is already a 90% take up rate of the innovative Icon Residence in Kuala Trengganu . The other interesting on-going project which is a clear reflection of their diversity is Kuala Trengganu Specialist Hospital.
In their pipeline, VST Group's projects are worth an estimated RM5.62 billion for the next five years. With a land bank of 100 acres sprawling across five states in Malaysia that includes Kuala Lumpur, Selangor, Penang, Johor and Terengganu VST Group is well positioned in their quest to be the premier developer of high-end quality homes in 5 years.
VST Group's approach of thinking beyond just building a structure and their attention to details in their working philosophy will provide the necessary catalyst for them to seek the expansion that they have originally charted while traversing the ocean of possibilities.
VST embraced principles includes an enrichment element of a human touch yet it seeks to build a world with an emphasis on the little things in life that would make a difference in our lives. After all, what matters are the little things that we do every day that makes people smile that will spread joy to our hearts.
It is always about the people. That makes the difference.
[Sponsored review]