Sandiland Foreshore developer to deliver affordable homes in 5 years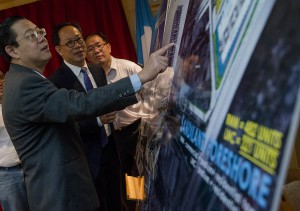 Sandiland Foreshore, the state government's affordable homes project in George Town, has taken off with developer Tanjung Villa Development Sdn Bhd awarded the contract to build it.
Chief Minister Lim Guan Eng said the project on 1.7ha of land in Jalan C.Y. Choy would feature medium- and low-medium cost housing units that were between 65sq m and 93sq m large, at a price range of RM72,500 to RM400,000.
He said the project would synergise with the surrounding developments in the heart of George Town, such as Komtar, which was undergoing a major revitalisation, and the Penang Heritage Centre that would feature the tallest man-made waterfall in the world.
There is also the Macallum Street development coming up nearby, he said.
"Sandiland Foreshore will create viability and vibrance to the surrounding areas while matching Penang's aspiration for a clean, green, safe and healthy environment.
"It will give the people affordable housing and alleviate the problem of 54 squatter homes on the site.
"The existing residents support the project. They had been hoping for permanent homes since the last administration," he said at the signing ceremony for state investment arm Penang Development Corporation (PDC), the landowner and Tanjung Villa held at his Komtar office today.
The project will have 482 medium-cost and 321 low-medium cost apartment units, as well as commercial facilities. The state will be allocated 150 units for the squatter families.
Deputy Chief Minister I Datuk Mohd Rashid Hasnon pointed out that the project did not offer low-cost units because the state wanted the people to have quality housing with good facilities
"The lowest the state will go is low-medium cost. We want to give the people a better housing option," he said.
Tanjung Villa managing director Datuk Hong Yeam Wah said the company was honoured to be part of the Sandiland Foreshore project.
"We are dedicated to building homes and enriching lives. We will work with the authorities to deliver the homes within five years," he said.
An open tender for Sandiland Foreshore was called in July last year.
Tanjung Villa won with a tender amount of RM36 million in January. The gross development value of the project is RM245.67 million.
The developer will at its own cost look into the compensation of residents and squatters on the project site, including payments of rental for temporary housing, and the tenants' relocation costs.
Source: The Malaysian Insider