How to Increase Your Property Rental Yield and Capital Gains through Interior Design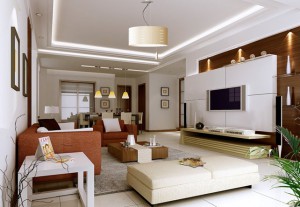 * Article by Freemind Works *
Buying a property for the purpose of investment is one of the best decision one can make. However, deciding what to do with the property after we get the keys is another ball game altogether.
Click here to download the FREE E-book and discover how you can add value to your property with minimal cost
Look around you and you can see many projects completing and the owners will be getting keys soon in these coming months. In difficult times like this, not only are we faced with the challenge of finding the right property and getting our loans approved; we also now need to add value to our property to differentiate it from the other properties in the market.
My mentor and a good friend of mine, Adrian Wee, also known as the ID King, introduced to me the concept of Buy Renovate and Sell (BRS) and Buy Renovate and Rent (BRR). As promised, this is my second article on how you can add value to your property to get higher-than-market rental return.
Find out more on property investment strategies to get higher-than-market rental returns
If you who are planning to renovate your property soon, here are some interior design information that I've learned from Adrian Wee, the Renovation and ID Specialist. The below simple tips are some which you can adopt to add value to your property with a fraction of cost to produce maximum impact:
#1. Plaster Ceiling:
Add elegance and value to your space by using Light Box or Curtain Pelmet Light Box. The Design is simply achieve by using an L shape profile with the inside corner finished with a simple cornice. Usually Tubular florescent light T5 or Led rope light is concealed in the trough and light is reflected onto the ceiling. Gives a good indirect lighting expensive/high class effect to the room.
#2. Paint:
This may seem like a simple suggestion but a fresh coat of paint can do wonders for a house. It is cost-effective but raises value as freshly painted rooms look clean and updated. When your are selecting colours for the r0oms in your home, remember that neutral earth colours are best as they appeal to everyone and make your home more desirable. I always tell my client, every ringgit s.pend to upgrade a sub-sale home is a 10 times return for your investment on the paint work!
#3. Wallpaper:
Wallpaper may be harder to do than painting, but it will last for a good deal longer than paint will. In fact, many modern wallpapers will last for ten to fifteen years, whereas, repainting often has to be done as often as every couple of years, depending on your household. Wallpaper can last five times longer than paint under normal conditions, making it a very economical choice. Over time, you can save over 30 percent of your repainting costs, simply by choosing wallpaper. Installing a feature wall in the living or bedrooms gives visitor an upgrade perceived value with a lasting impression.
#4 Upgrade the Flooring:
Many people forget about upgrading the flooring. The higher the investment is, the better the returns, so going for wood, tile or natural stone to upgrade your floors gives it more perceived value. Vinyl flooring and low-end carpets are a no-no.
#5. Lighting Fixtures:
This is another simple solution to raise the value of your home. Invest in lighting fixtures and upgrade the existing ones. Using pendant lights and wall light can also make a big difference. You can give your home a face-lift and make it more attractive for people when you put your house on the market. These add-ons gives a higher perceived value to the space. E.g. Rewiring and adding down-lights on the other hand does not add impact to your visitor.
#6 Accessories:
Mix a few high-priced pieces with low-cost accessories. Make an investment in the pieces that will take the biggest beating that you need to last the longest like sofas and beds. Then pile on the inexpensive accessories that you plan on changing often like throw pillows and other decorative items. Do this with art, too. Mix affordable prints with one or two original paintings or sculptures.
Come and listen to the property investment strategies to get higher-than-market rental returns
These are some ways to improve your home and increase its value. Knowing how to do it cost effectively is a great way grow the value of your investment. Again, as I always share with my readers, don't reinvent the design wheel, simply reproduce a room you saw in a magazine or on a design website to save you time and money.
Above are just some tips to Interior Design. There's still so much more to learn. Bear in mind that this is not a one size fit all solution; you must look at your target market and type of properties you bought to apply the different ID ideas. In short, you can add value to all your property but you can't apply the same ID ideas to all the property.
To find out more how Adrian Wee can help you to save 20%-30% of your renovation cost, come and meet him LIVE on 8 Aug 2015 in "Mastering Your Wealth". Not only will he show you how you can save money through ID but also make money and a business out of it.
We have very limited seats left, ony 17 seats left. He doesn't come to Penang often, don't miss this chance to meet with him live in Penang.
So, book your seat early as we are expecting a full house. Now, people usually have to pay the retail price of RM129/pax ,
* BUT, I will give this deal to Penang Property Talk reader : You get all these learning for only RM57! And For 1st 17 people who register here NOW! will also get a FREE Penang map from Ho Chin Soon and other bonuses.
See you soon.
Happy Investing,
Keegan.
Keegan Tan is a Property Investor and Property Coach. He has coached more than 200 Penangites who have bought their property no money down. He is also the Founder of Freemind Works, an organisation that empowers individual to achieve their dreams through continuous education. Keegan has been featured in the News Straits Times and Property Insights. He has also spoken in Property Expo and Property Convention in front of a crowd of more than 300 people.
[Sponsored]