Buyers study property prices and location to suit needs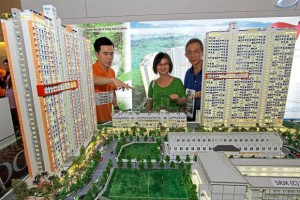 While the recent implementation of the Goods and Services Tax (GST) has made people more cautious about their spending, they are still willing to take the plunge if the right property is available.
This was a common sentiment expressed by exhibitors and visitors at the ongoing Star Property Fair 2015 at G Hotel and Gurney Plaza in Penang.
Eco World Development sales manager Eunice Lee said there was a period immediately after GST where many potential buyers deferred their decision.
"While it prompted some to think twice and study their options in detail, now that things have settled down, people are willing to commit.
"Naturally, pricing is the main concern, especially after the tightening of regulations with regards to obtaining bank loans.
"Location is another key factor, and a good portion of buyers tend to be from within a 10km radius of the particular development," she said yesterday.
Among those seen browsing the booths for potential investment options were marketing manager Jeffrey Ooi and wife Sueanne Chua, an advertising accounts manager.
"If the product ticks all the boxes, GST or not people will still go for it.
"As an investor, primary considerations are the area, the surrounding facilities and potential rental income," Ooi opined after checking out the latest phase of MTT Properties and Development's Botanica.CT township in Balik Pulau.
Valuer Tan See Wei was looking for something mid-ranged, and enquired about Asia Green Group's The Clovers in Sungai Ara.
"With so many companies in one place, it's a great time to have a look. Some have nice concepts," he said.
Retiree S.C. Khor and his wife were interested in affordable options like Ideal Property Group's One Foresta in Bayan Lepas.
"Like most people, we're concerned about the price. If it can come down further even better," Khor quipped.
Meanwhile, the Penang Development Corporation (PDC) booth is exhibiting some 1,921 affordable properties from the state government.
PDC sales and marketing executive Siti Zabedah said the the projects are located in Batu Kawan in south Seberang Prai, Kampung Jawa in north Seberang Prai, and Teluk Kumbar in the southwest district.
"The low-medium cost units for the three locations are priced at RM72,500.
"The other units are priced from RM168,000 to RM220,000 in Batu Kawan, RM200,000 to RM250,000 in Kampung Jawa and RM250,000 to RM330,000 in Teluk Kumbar," she said.
Siti said the registration for the properties had been slow.
"Although the booth promotes the affordable projects from PDC, buyers can still register for any of the 22,512 affordable units that the private sector and state government are building," Siti said.
Source: TheStar.com.my