Slow quarter for E&O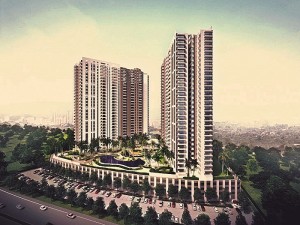 Maintain "hold" with revised target price of RM2. Excluding exceptional items of RM103 million, E&O's fourth quarter financial year 2015 (4QFY15) core earnings came in at only RM3.4 million.
This takes FY15 core profit to RM43 million, which is significantly below consensus' and our projection as we had earlier expected a much stronger quarterly profit.
E&O completed two blocks of the Andaman Condominiums project in Seri Tanjung Pinang (STP) during the quarter, which saw a 38% year-on-year (y-o-y) drop in revenue to RM143 million.
A first and final dividend per share in the form of one treasury share for every 50 E&O shares has also been proposed, resulting in 3.7 sen per share.
Meanwhile, net gearing rose to 60% due to the acquisition of Landmark House and Thames Tower in London for £57 million (RM310 million).
On outlook, E&O has achieved RM940 million sales in FY15 driven by its projects in Johor, the Klang Valley, Penang and the United Kingdom. Launches in the pipeline in financial year 2016 (FY16) include those of Avira Garden Terraces Phase 2 and 3, Tamarind Executive Apartments@STP Phase 2, as well as the Conlay project.
The tender for the STP2 reclamation was completed on May 11, 2015 and a tender interview will be conducted on May 29 for the four bids which will be followed by the reclamation contract award. E&O is expected to finalise its long-term strategic partner for its STP2A's 253 acres (102.38ha) within six months, given the high capital requirement for the massive reclamation works.
E&O has announced that its UK property arm will pursue a listing on the AIM of the London Stock Exchange this year to grow its franchise via a local platform.
It is expected to reduce its holdings in E&O UK to below 50%, though it will remain the single-largest shareholder of E&O UK. This is estimated to reduce E&O's net gearing to 30% after the de-consolidation.
We have now imputed slower property sales in view of the cautious sentiment. We note that E&O's inventory has increased to RM208 million in FY15 from RM75 million in FY14. This could be attributed to the completed units at Andaman Condominiums.
The risks include the STP2 reclamation requiring heavy capital spending, given the huge area involved. Future phases will likely need joint-venture partners or rights issue.
With the Penang and Johor state governments imposing additional restrictions on top of Budget 2014, this could discourage foreign buyers to whom E&O has a large exposure. — AllianceDBS Research, May 26
Source: TheEdgeProperty.com