Penang Island vs Mainland (Part 3) – Connectivity & Accessibility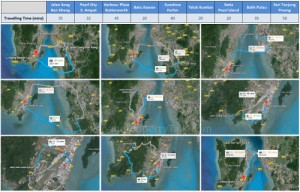 Connectivity & Accessibility
More than 30 years ago, before the Penang Bridge was built, it was a big thing for people from mainland to go to the island. Property investment in the Island vs mainland was hardly discussed because travelling to the other side of Penang taking ferry on a daily basis just doesn't make much sense. One would just buy a house nearby where they work and where most of their relatives and friends are staying.
With the opening of Penang Bridge in 1985, it has substantially enhanced the connectivity and accessibility between the island and mainland. It has also been an important infrastructure to support the regional economic growth by improving access to the key employment region, airport and schools. The spur of economic development has eventually led to the rapid increase in property prices in Penang.
Today, most people think that with better connectivity between the island and mainland, properties in the mainland will be the sole gainer. Actually that's not entirely correct. With the opening of 2nd bridge, the obvious winners are both Batu Kawan and Batu Maung. It is not about how many are going to move to Batu Kawan, neither it is about how often a person will buy furniture from IKEA. It is the economic multiplier effect that brings more value and development into those the two areas.
With better connectivity, people are more willing to stay further away from their workplace as long as they have easy accessibility to education, shopping and eateries. There is a common suggestion that one should buy a house near their workplace so that they can save time travelling to work. This is not always true as the subconscious element of selfish thoughts is involved in making the decision. Think about the time your family spent in the car while sending children to schools, tuition classes, music lessons, sports, going out for dinner, glossary shopping and etc. Do you still think that travelling to the office take up most of your time?
To get an idea of how much time is needed to travel from one place to the center of FTZ during peak hours, some samples based on Google traffic at 7:50am in the morning is captured: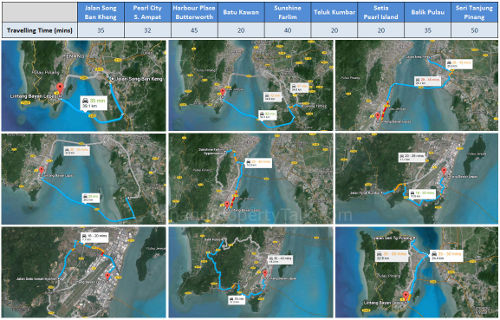 Obviously, travelling to work from these locations would take you roughly between 20-40 minutes. What is more important is the accessibility to nearby amenities, which may cumulatively take more than 40 minutes of your family time in travelling.
Putting aside the travelling to work place, both island and mainland are equally well connected to amenities that serve our daily needs. However, I would have to agree that Penang Island generally has more high-performing schools and better health care centers. Until mainland is developed with more international education institutions, the availability of International schools and colleges are definitely a plus for Penang Island.
OTHER TOPICS:
Penang Island vs Mainland (Part 1) – Location branding
Penang Island vs Mainland (Part 2) – Land scarcity or abundant?
Penang Island vs Mainland (Part 4) – Population
– Ken Lim
(Founder and Principal Reviewer, PenangPropertyTalk.com)