Penang aims to cushion property prices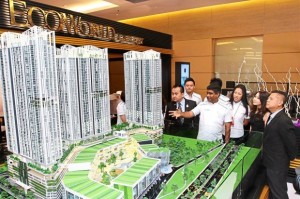 The state government wants to work with property developers to cushion the impact of skyrocketing property prices and the slowdown in the property market.
Penang Deputy Chief Minister I Datuk Mohd Rashid Hasnon said as one of the most economically important states, Penang was experiencing growth that had impacted the demand for medium-cost and luxury housing.
To tackle skyrocketing proper­ty prices, the state government planned to build more low-cost and affordable homes in the state, said Rashid.
Rashid also pointed out that the growth in the property market in the country had slowed down recently.
"Penang is not spared this blanket effect. However, we are optimistic that the property sector will reap benefits from the effective city-planning measures put in place by the state government," he said at the opening of the Star Property Fair 2015 at the Sunway Carnival Mall and Sunway Carnival Convention Centre in Seberang Jaya yesterday.
Also present were Star Publica­tions (M) Bhd senior regional ma­­na­ger (operations) David Yeoh and advertising sales and business deve­lopment manager (north) Simone Liong.
Yeoh said the annual Star Property Fair affirmed the newspaper's commitment to providing quality solutions to the people and strengthened its position in the property scene.
Eco World Development Group Bhd, Mah Sing Group Bhd, BSG Property, SP Setia Bhd, Sunway Bhd, and IJM Land are among the larger exhibitors at the four-day fair.
SP Setia (Property North) sales and marketing manager Susie Loh said the group was displaying its RM330mil Setia Sky Vista in Relau and RM560mil Setia V Residence in Gurney Drive projects at the fair.
IJM Land is showcasing over RM400mil worth of property loca­ted on the island and in Seberang Prai.
Sunway is showcasing Sunway Wellesley and Sunway Cassia in Bukit Mertajam and Batu Kawan respectively, while BSG is exhibi­ting Oak Ridge, a landed property project, and the Landmark projects located in Sungai Nibong and Tanjung Tokong respectively.
Mah Sing is selling the remaining units of The Loft, SouthBay Plaza and Lagenda SouthBay at the fair.
The fair is on until Sunday.
Source: StarProperty.my