Penang to roll out RM27b transport master plan in 2017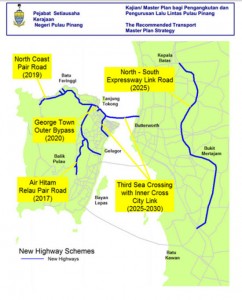 The RM27 billion Penang Transport Master Plan will be rolled out in stages beginning 2017, the state government said.
Penang traffic management exco Chow Kon Yeow announced today that the state government had received proposals from six bidders to be project delivery partners (PDP) of the master plan.
Of the six, two are foreign consortiums and three are local public-listed construction giants, he said, without revealing the companies.
The state has appointed consultancy firm KPMG to lead the evaluation of the bids.
"By May, we should be able to decide which firm to pick and sign an agreement with.
"After that, there will still be work to refine the plans before tenders can be called to appoint companies to start the physical work. They will need to take a couple years to finalise engineering plans before rolling out the projects.
"We expect that the first project from the master plan will be able to roll out in 2017," he said at a press conference at his Komtar office.
The closing date for bidders to submit their proposals was yesterday.
The Penang Transport Master Plan, completed in 2012, aims to resolve traffic woes in the state, especially on the island.
It involves massive infrastructure works and a comprehensive public transport system incorporating light rail transit (LRT), trams, buses and catamarans, expanding roads and building new highways.
It also includes an ambitious undersea tunnel linking George Town and Butterworth.
Instead of appointing only one PDP as initially planned, Chow said due to the size of the master plan and the many projects and packages involved, two PDPs may be appointed and split up the projects for better management.
Bidders must propose implementation plans as well as financing for the projects, he said, adding that this may include land swaps and land reclamation rights.
"This is the method used by Konsortium Zenith BUCG Sdn Bhd, which is undertaking the undersea tunnel project.
"We will have to study the proposals by the bidders first to see what funding method is viable," Chow said.
Konsortium Zenith BUCG was awarded a 30-year concession on the tunnel. The company will also get 44.5ha of reclaimed land from the Penang government for building the tunnel.
The feasibility study for the 6.5km undersea tunnel reportedly started last month and work on the multi-billion ringgit project could begin next year.
Source: TheEdgeMarkets.com