Penang International Property Summit 2015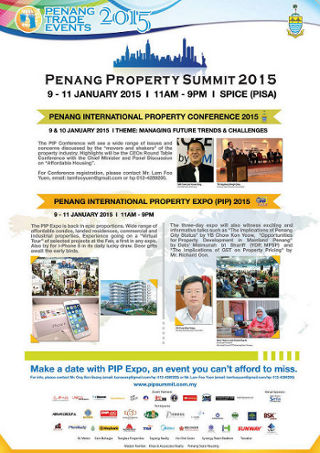 The inaugural Penang International Property Summit, and an international property exposition to be held at the Subterranean Penang International Convention and Exhibition Centre (SPICE) this weekend, is expected to attract over 30,000 potential house-buyers.
The summit, themed," Managing Future Trends and Challenges" is from Jan 9-10 and the property exhibition from Jan 9-11.
State Housing and Town and Country Planning Committee chairman Jagdeep Singh Deo said the three-day event is a platform for all stakeholders to come together and speak on issues they faced.
"This is the first time, we are having an exhibition with a summit, as we want to address every issue globally, at one event.
"To date, over 48 exhibition booths have been taken up, and about 120 participants confirmed, including developers, auctioneers and bankers.
"The summit is aimed at creating better awareness of the many issues faced by industry players. Their views will be heard by the state government to further promote the property market in Penang," he told reporters here today.
He said among the topics to be broached by prominent speakers includes the challenges of affordable housing, incentives for first-time house buyers and greener buildings.
Meanwhile, the Vice president of the International Real Estate Federation (Fiabci) Michael Geh said the first quarter of the year will see many house-buyers rushing to purchase properties before implementation of the Goods and Services Tax.
He said the buyers should take advantage of the Expo to purchase their houses with over 70 companies and developers expected to participate. – Bernama
* PenangPropertyTalk.com is Penang International Property Summit 2015's Official Event Partner.
READ MORE: