Just how much more development can Penang take, concerned observers ask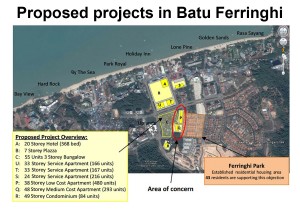 In the first two parts, we had looked at development practices and the open space policy in the Klang Valley area, where demand for new properties is making land even more scarce. Today, we look at the issue of determining the limits to development, and in Penang island's case, how much more it can take.
Wanting to spend their golden years in Asia, Dennis, a 60-something retired engineer from Europe, and his wife, chose Penang for the sea breeze, sunny skies, greenery and local hospitality that the island to the north of Malaysia's capital, Kuala Lumpur, is known for.
They invested in a house in the idyllic Batu Ferringhi tourism belt and for the past five years, as expatriates, have attested to Penang's reputation as one of the most attractive and livable islands in Asia.
That was until recently, when they learned of a multi-storey high-density mixed development project which will be built just yards behind their home – despite the Batu Ferringhi area being designated for low-density projects under the Penang Island Structure Plan.
A recent string of construction-related controversies that include ugly hill cuttings, urban flash floods and traffic congestion is changing perceptions about Penang's liveability and raising questions as to how much more development the island can take before its environment starts to degrade and the quality of life for residents suffer.
Such limits, or carrying capacity, however, have never been confirmed by the state.
Yet, with population growth on the island projected to rise from the current 750,000-odd people to 871,000 in 2020 and 989,400 by 2030, demand for property is likely to escalate, making a declaration on the island's carrying capacity all the more crucial.
The matter was studied when the drafts of the Penang Island Local Plan and the State Structure Plan were being prepared a few years ago but information on the carrying capacity was never disclosed.
State executive councillor Chow Kon Yeow said the study had looked at land availability for future growth, and the spaces and facilities available.
"From there, we decided on zoning rules, plot ratios, and limiting development in environmentally sensitive areas; as well as gazetting hill land, catchment areas and even padi fields," he told The Malaysian Insider in an interview.
But Chow, who is in charge of local government, traffic management and flood mitigation, admitted that the state wanted to maximize land use – which meant allowing hillslope and high-density developments.
This is in view of expected demand for new property as the island's population increases. As it is, there were a total of 2,595 planning approvals issued, of which 552 projects took place from 2000 to October this year, according to the Penang Island Municipal Council (MPPP).
Despite the anticipation of new properties in the pipeline, councillors from the MPPP themselves are not even sure if findings on the island's or state's carrying capacity are available.
None have ever been sighted, said councillor Lim Mah Hui.
"I am not sure if they are in the two plans," he said, referring to the draft local and structure plans.
"Yes, there are zoning rules, plot ratios and some guidelines on hill development, but they are not justified by carrying capacity," said Lim.
This situation begs the question of what the authorities use as yardsticks to determine if new development will overtax the island's resources.
In the absence of such information, Lim suggested that road congestion could be used as a good reference point.
The draft of the state's Transport Masterplan already warns that as the population rises, travel demand will increase by 50% or more by 2030. Without significant improvements, the island would see its roads getting more congested and traffic moving at reduced speeds.
A study for the master plan has found that there are a quarter of a million vehicular trips being made during peak morning hours every working day in the state.
Of these, 42.5% are within the island, underscoring the strain faced by the limited road system.
Acknowledging calls for development controls, Chow said the state government had to look at ways to maximize land use to cater to Penang's growing population.
Inevitably, this means building on hillslopes and allowing higher density developments.
"Due to such pressures, there will be a need to release more land for growth and also to look into more efficient traffic management and public transport," he said.
The state also cannot stop new development outright as much of the land does not belong to the government, Chow added.
Real Estate and Housing Developers' Association of Malaysia (Rehda) Penang chairman Datuk Jerry Chan said the issue of the island's carrying capacity was tied to population growth as a result of job opportunities and tourism, among other factors.
This also implied that the state government had to decide what it wanted Penang to be.
The increase in more real estate, like houses, hotels, malls, factories, offices and BPO centres (business process outsourcing), is a by-product of population growth, he said.
"That is due to migration, tourism, job opportunities and other factors that draw people here. Do we stop or welcome people to Penang to work, live and visit?
"Do we become a victim of our own success? This is something we must decide," he told The Malaysian Insider.
One way to help the island cope was to shift the development focus to Seberang Perai or mainland Penang, where more land was available. Three times the size of the island, Seberang Prai's population is projected to soar from 840,000 currently to 1.46 million in 2030.
Penang's history and status as a well-developed cultural and tourist attraction, however, have caused a certain degree of "bias" among islanders towards living on the grittier, smoggier mainland, and Chan said it would take time for the state to make mainland Penang more attractive. This would mean upgrading and creating infrastructure there as well as better-paying jobs.
To date, the delay in gazetting development blueprints for Penang island has taken on a political dimension, with the state Barisan Nasional (BN) opposition criticising the long wait for the Local Plan to take effect.
State opposition leader Datuk Jahara Hamid had said at the Penang State Assembly recently that the absence of an enforceable local plan has allowed the State Planning Committee (SPC) chaired by the chief minister to approve projects that are controversial and allegedly inappropriate to surrounding existing communities.
"As there is no local plan, there are no limits to planning and approvals," she said, noting that this has resulted in resulted in the green light for high-rise and high-density projects in areas originally slated as low-density zones.
The state government's reason for the delay in gazetting the Local Plan is apparently to incorporate the Special Area Plan (SAP) for the George Town Unesco-listed heritage zone, but this document has yet to be finalised.
In the meantime, Dennis, the retired engineer from Europe, and his wife, are now looking at moving away, possibly to Bali.
"We were happy here. That's why we invested our money and bought a house," the elderly man said. "But this kind ofdevelopment scares us as foreigners. I feel very unsafe and insecure.
"We know development needs to happen, but is this the correct way to do it?"
Source: The Malaysian Insider