Second Penang Bridge Lures More Investors To Mainland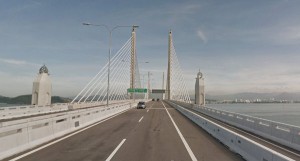 The Penang state government has acknowledged the importance of the Sultan Abdul Halim Muadzam Shah Bridge as more firms on the island express interest in expanding their operations to the mainland.
Chief Minister Lim Guan Eng said more high-tech manufacturing firms from the United States (US) and the European Union have announced expansion initiatives amid the opening of the Second Penang Bridge linking the island and Batu Kawan.
"Those already operating in Batu Kawan include Bose Systems, Haemonetics, Magneti Marelli Automotive Lighting (MAL), SanDisk, Seagate and VAT (Swiss semiconductor firm)," he said at the Invest Penang Supplier Day themed "Grow Your Business With International Partnership" here today.
The 24km bridge, a federal government project, was built at a cost of RM4.5 billion to ease the heavy volume of traffic on the first bridge, and has proven to be a key catalyst in developing the Batu Kawan industrial area.
Lim said multinational corporations (MNCs) have been a strong contributor to Penang's economic growth dating back to 1972, adding the US and Germany were Penang's second and third largest foreign investors in 2013 with total investments of US$155 million (RM507 million) and US$69 million (RM228 million) respectively.
"In aggregate, 40 per cent of Penang's foreign direct investment came from the US and Germany, mainly in the electrical and electronics (E&E) sector," he added.
Lim said E&E products have been Malaysia's main traded items and have elevated the country to becoming a major link in the global E&E value chain.
He said from January to September this year, Malaysia exported US$58 billion worth of E&E products globally, posting a nine per cent increase over the previous year.
"Penang contributes 25 per cent of Malaysia's total exports or 50 per cent of Malaysia's E&E products exported overseas," he added.
The Supplier Day event, attended by over 40 foreign and local sourcing companies and 250 supplier companies focusing on the E&E industry, aimed to promote the E&E ecosystem, enhance localisation as well as showcase joint-venture opportunities in Penang especially in the E&E supply chain.
Source: Bernama