Electronics Sector Vibrant – Property Sector Supported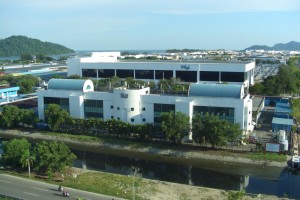 by Charles Tan
In Penang, the electronics sector is a very important sector for property market. The reason I say so is because more often than not a lot of these manufacturing companies would hire engineers as well as other functions to support operations and these are the potential buyers of properties. This is especially so when these professionals got married to each other and thus, the combined income allows them to support the property market for the above RM500,000 properties. That's one key reason why many of these high-rise properties which are not above RM650,000 are normally well sought after. In fact, when you ask around, a lot of these engineers who are just reaching 30-35 are still without a property to their name. Of course whether they buy or not depends on individual preference and the property prices because even these professionals could not buy if the property prices becomes totally unaffordable.
According to a recent report in an English daily, the electronics industry in Penang will have a very good first quarter of 2015. This is despite the fact that the first quarter is normally a slower period. For 2014, the electronics segment which covers the industrial electronic components, flex-circuited, printed circuit boards (PCB) and PCB Assembly (PCBA products) would be announcing better results compared to 2013. For 2015, the growth would continue with the following products which are becoming popular in the market. They include wearable smart devices, portable health equipment, light-emitting-diode (LED) automotive lighting, energy-saving home appliances, box-built medical and touch-screen display products. I think we can identify some of these products easily as we can see them being used or sold in many places.
Of course, as usual, when there are good news there are also the downside. What if there's a slowdown in the industry? Well, truth is, all these companies that are reporting better results would just have to continue understand their business and their industry and keep themselves up to date with the latest needs from the market. A more pertinent question to the property market vibrancy would be how many of these companies are moving up the value chain and hiring even more engineers instead of labour intensive which is going to be too competitive in the near future anyway. There's really no way that Malaysia can compete with much bigger countries on this account. For now, I think the support from the electronics sector to the Penang property market is very strong and it is very much related. If the whole electronics sector go down, it will definitely have a bearing on the Penang property market's continuous growth. For the engineers, keep up the great work.

>> This opinion article comes courtesy of Charles, the founder of kopiandproperty.com. He is popular for sharing his thought on property investment mostly based on his own 11 years experience as well as from all the readings and conversations with property gurus in the industry. (Source)