Malaysia-China firm wins RM8bil road and tunnel projects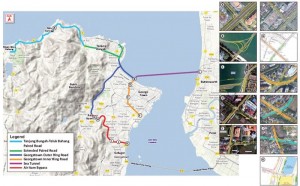 Penang has awarded the tender for the underground tunnel linking the island to mainland and three major highways projects to Consortium Zenith BUCG Sdn Bhd with a land swap and 30-year concession on the tunnel.
Penang Chief Minister has announced the deal today where the firm will underdertake 3 highways and tunnel projects in exhange for a 44.51ha of reclaimed land in Tanjung Pinang. The deal will only be formally inked after a few more months where the finer details of the overall project are agreed upon.
The projects consist of:
Gurney Drive-Bagan Ajam undersea tunnel (6.5km)
Gurney Drive-Tun Dr Lim Chong Eu expressway bypass (4.2km)
Tun Dr Lim Chong Eu expressway-Bandar Baru Air Itam bypass (4.6km)
Tanjung Bungah-Teluk Bahang (12km)
The reclaimed land in Tanjung Pinang will be handed over to the contractor in stages depending on development and construction of the awarded projects.
According to The Malaysian Insider's report, it was agreed that there will be no toll charges imposed on the three major highways on the island. It would also have to bear any losses of the tunnel should there be a lack of usage by motorists.
Consortium Zenith BUCG is made up of a local company, Consortium Zenith and China-based Beijing Urban Construction Group (BUCG).