BM City Mall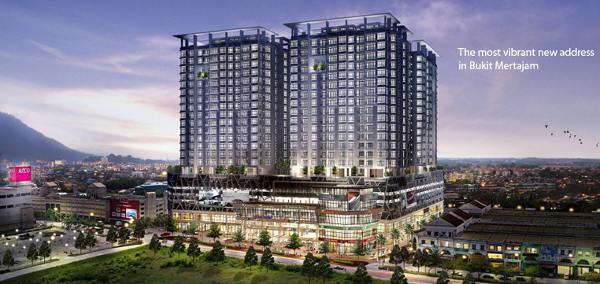 BM City is an interconnected, self-contained and thriving development that blends lifestyles with commercial in one elegant high-rise tower of designer suites perched above eight floors of retail outlets. The community here is set to herald in a new era of chic urban lifestyles with doorstep access to working, shopping, dining and entertainment options.
BM City Mall featuring a myriad selection of lifestyle facilities such as chic galleries and trendy boutiques. BM City Suites and its comprehensive range of facilities are designed to cater to three generations of Designer Suites. There is just so much to do in keeping one fully occupied in their urban retreat.
BM City Mall
40 Units of 2 storey shop office
(built-up area from 1,910 sq.ft. to 10,726 sq.ft.)
32 units kiosk
(built-up area from 164 sq.ft. to 6,871 sq.ft.)
BM City Suites
3 block of Designer Suites with 528 units
(built up area from 594 sq.ft. to 1,441 sq.ft.)
Podium floor
Facility – Landscape area
Approximately 80,000 sq.ft. (1.83 acre)
Car Park – 5 storey (2nd floor – 6th floor)
Car park bay – 1,450 nos.
Besides being surrounded by a host of public amenities and infrastructures, BM City is also within close proximity to the Penang Bridge and North-South Expressway to accord residents' easy accessibility and total convenience.
5 mins to North-South Highway
10 mins to Penang Bridge
15 mins to Juru Auto City
Property Project :
 BM City
Location : 
Bandar Perda, Bukit Mertajam, Penang
Property Type :
 Kiosks, Shop Offices & Suites
Land Tenure :
 Freehold
Built-up Area :
 164 sq.ft. onward (kiosk), 1,910 sq.ft. onward (shop office), 594 sq.ft. onward (suites)
Total Units :
 32 (kiosk), 40 (shop office), 528 (suites)
Indicative Price :
RM 171,000 onwards (designer suites)
Developer :
BM City Realty & Construction Sdn Bhd
Contributed by reader (Update 07/04/14)
[nggallery id=98]
Contributed by reader (Update 13/04/14)
[nggallery id=99]
Contributed by reader (Update 27/04/14)
[nggallery id=103]
Contributed by reader (Update 04/06/14)
[nggallery id=107]
Contributed by reader (Update 12/06/14)
[nggallery id=108]
Contributed by reader (Update 10/07/14)
[nggallery id=109]
Contributed by reader (Update 14/07/14)
[nggallery id=112]
Contributed by reader (Update 02/08/14)
[nggallery id=114]
Contributed by reader (Update 12/08/14)
[nggallery id=115]
Contributed by reader (Update 17/12/14)
[nggallery id=118]
Contributed by reader (Update 06/06/14)