Maritime Piazza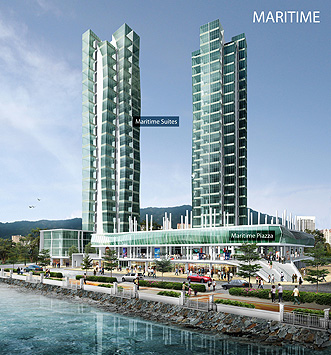 Everyone is different with their own lifestyles, ambitions and desires. Keeping that in mind, a unique living concept has created called 360º Lifestyle under IJM Land's newest sea – front development, The Maritime.
As each person has diverse and unique needs for their business, leisure and home life, the objective of 360º Lifestyle is to provide innovative and completely adaptable living solutions. This is where The Maritime comes in.
With its strategic location along the New Promenade, off Jelutong Expressway, The Maritime is just a short drive away from Georgetown, Penang Bridge, Bayan Lepas Industrial Zones, Penang International Airport and the Ferry Terminal.
This project comprises of two major components i.e. Maritime Suite ( Duplex Suites ) & Maritime Piazza ( Shops ).
The Maritime Piazza will be Penang's newest lifestyle locale with a fascinating array of shops, bistros and restaurants for people from all walks of life. Shoppers can unwind in an open and delightfully airy ambience while enjoying a magnificent panoramic view of the sea. For those seeking a dramatic venue for exhibitions, road shows & fairs, the Piazza's concourse is the ideal place. Strategically situated on an elevated section to take advantage of an ever changing ocean as the backdrop and has a drive – up ramp leading to it, making it convenient to transport goods and stage props. Maritime Piazza has 50 units of commercial lots with choices of single storey shop, 2 storey shop – piazza and 3 storey shop – office.
Single storey shops : 
Level 1 : 20 shops ( 1,140 – 2,088 sq.ft )*
Level 2 : 9 shops ( 753 sq.ft – 2,045 sq.ft )*
2 storey piazza : 
Level 3 : 12 shops ( 1,873 sq.ft – 2,939 sq.ft )*
3 storey shop office : 
9 shop office ( 3,616 sq.ft – 6,394 sq.ft )*
Property Project : Maritime Piazza
Location : Georgetown, Penang
Property Type : Commercial
Total Units: 50
Indicative Price: RM 450,000 onwards
Developer : IJM Land