Penang is top with approved investments worth RM7.7b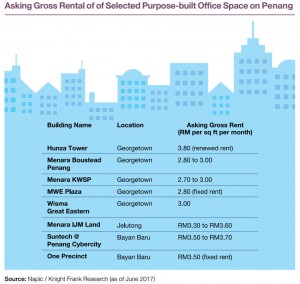 Penang is top on the national list with approved investments worth RM7.71 billion in the manufacturing sector for 1H17, said Knight Frank Malaysia in its "Real estate highlights for 2nd half of 2017" report launched today.
"This accounts for 45% of the total RM17.02 billion investments approved nationwide and which has also surpassed the total investments for 2016 at RM4.29 billion. Some major developers have still been launching projects, albeit at a slower pace. These augur well for a possible medium-term improvement in public sentiment," the report said.
The report looks into the market performance across the various property mix — residential, office and retail — and highlights the trends and outlook in key markets of Malaysia, namely Kuala Lumpur, the Klang Valley, Penang, Johor Bahru and Kota Kinabalu.
However, the report noted that overall, 2H17 did not witness improvement to the overall property market as sentiments are still very much subdued owing to the overall financial/economic situation as well as political uncertainties.
"This is reflected in the overall volume of property transactions in the state [Penang] which continues to decline and similarly the value of transactions, although there is some slight improvement for 3Q17 compared to 2Q17," said the report.
According to the latest figures released by the National Property Information Centre for 3Q17, there was an upturn of 10.5% in the total volume of transactions for all sectors in Penang q-o-q and a slight drop of 2% y-o-y. In terms of the total value of transactions, there was a 85.3% increase q-o-q and a 76.6% increase y-o-y.
As for the high-end residential market, there were less sub-sale activities in the secondary market for condominiums sized from 3,500 sq ft to 6,000 sq ft although prices continued to hold steady in 2H17, the report noted, adding that the condominium sub-sector is still consolidating.
"Sub-sale transactions are more brisk for developments in Tanjung Bungah as compared to areas like Pulau Tikus and at prices ranging from RM596 per sq ft (The Cove) to RM764 per sq ft (Infinity Condo and 1 Tanjong). A 2,537 sq ft unit at the newer Andaman at Quayside in Seri Tanjung Pinang was transacted at RM1,285 per sq ft whilst the latest two transactions for the larger sized units of 10,775 sq ft at 8 Gurney indicated an improvement from RM600 per sq ft to RM740 per sq ft," said the report.
As for the office market, asking rents of upper floor space for three of the buildings monitored ranged from RM2.80 per sq ft to RM3 per sq ft per month in George Town while passing rents at the newer Hunza Tower was higher at RM3.80 per sq ft per month.
For buildings located out of George Town, the asking rent for the only lot (459 sq ft) available for rent at SunTech, Bayan Baru was RM4.10 per sq ft per month and at One Precinct, a 7-storey office building with MSC status located in Bayan Baru, asking rents for upper floor space were RM3.50 per sq ft per month, exclusive of charges for air-conditioning usage, the report said.
"The office sub-sector continues to remain relatively healthy with both occupancy rates and rentals holding steady. This is expected to continue over the next few quarters as future supply is not forthcoming for the time being," the report explained.
Meanwhile, for the retail market, occupancy rates for the prime shopping malls on the island ranged from 80% to 99% while for the secondary shopping malls, the range was from 70% to 90%.
"In prime shopping malls, rental rates for ground floor retail lots generally range from RM13 per sq ft to above RM35 per sq ft per month, depending on the mall, location and size of the units," the report said.
The report also said that the retail sub-sector is expected to face further challenges with additional incoming supply poised to enter the market in 2019.
Source: TheEdgeMarkets.com