Silicon Island Development inks deal with state govt to develop PSI (Island A)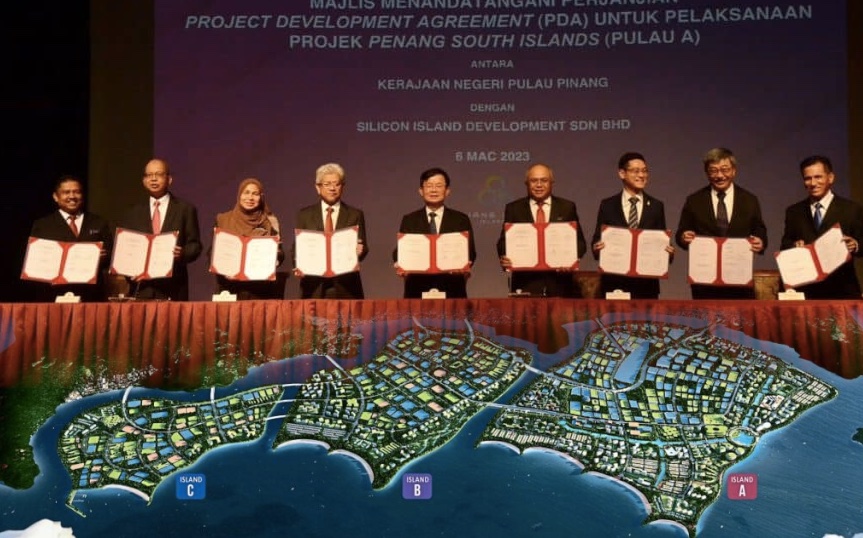 The Penang South Islands (PSI) project is set to generate economic growth following the signing of the Project Development Agreement (PDA) between the state government and Silicon Island Development Sdn Bhd for Island A.
Chief Minister Chow Kon Yeow said Island A, measuring 2,300 acres, would be developed for the betterment of the people.
"This PSI project is a milestone for Penang as it will generate growth for the state.
"It is also considered a Penang Economic Transformation project to establish an internationally-renowned hub.
"We had in 2021 announced that the development of Island A will be implemented through a joint venture. This includes the public-private partnership between the SRS Consortium and the Penang Infrastructure Corporation (PIC)," he said in his speech during the signing ceremony at Dewan Sri Pinang.
Under this agreement, Chow said the state has permitted Silicon Island Development Sdn Bhd to develop Island A.
"SRS Consortium will bear the capital equity while the state will ensure Island A is developed accordingly," he said.
Chow emphasised the project's significance to Penangites in the future.
"PSI plays an important role in line with the state's initiative to develop the electrical & electronics (E&E) sector.
"We plan to have a smart and green city that fulfils the Environmental, Social and Governance (ESG) concept," added Chow.
He pointed out the project would generate 460,000 job prospects in various sectors.
"It can also address the brain drain issue in the state," he said.
Chow said although the project would take a long time to materialise, the younger generation would benefit from the initiative.
"We hope to obtain a favourable Environmental Impact Assessment (EIA) report to ensure the project can kick start soon," he added.
Source: Buletin Mutiara