Coming soon – Le Meridien Penang Airport @ Penang Gateway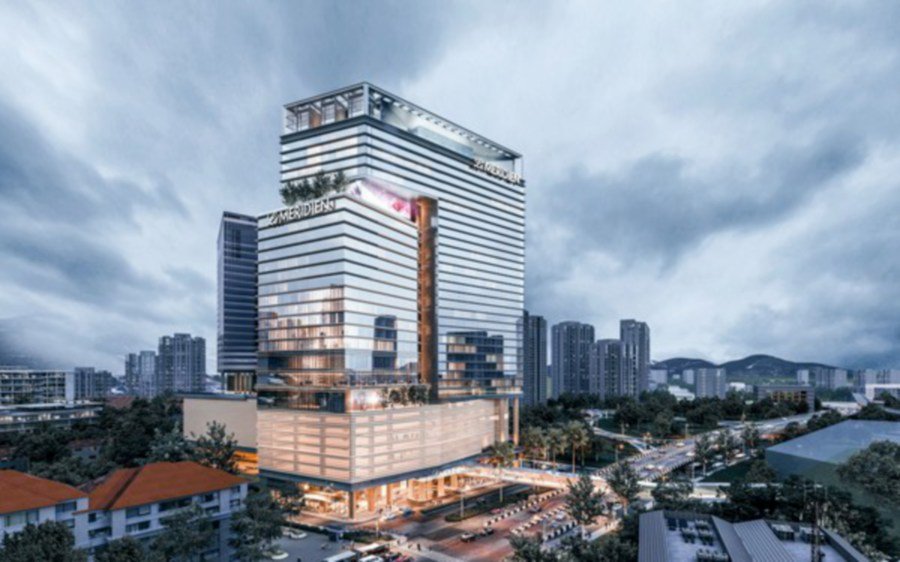 An international class hotel, known as Le Meridien Penang Airport, will be built in the middle of this year near the Penang International Airport in Bayan Lepas.
The 200-room hotel, which is one of the components of a mixed-use development known as Penang Gateway, is slated to be completed in four years or by 2026.
Penang Chief Minister Chow Kon Yeow, who together with Bukit Mertajam MP Steven Sim witnessed the hotel management agreement (HMA) signing ceremony between Marriott International Inc and innovative developer Rackson Group last night, said the state was proud to welcome a top-rated hotel to the hospitality industry in Penang.
"This latest addition is an award-winning brand that will undoubtedly add excitement to the state's already vibrant and dynamic landscape, particularly in the island's south-west district.
"In the vicinity is the Bayan Lepas Free Trade Zone where over 300 multi-national companies operate. Penang was once a traditional seaport economy before gradually evolving into the Silicon Valley of the East, and this year, we celebrate the golden jubilee of our industrialisation journey.
"As part of the RM1.5bil Penang Gateway in Bayan Lepas, this part of the world will be booming with plenty of activities and opportunities.
"The hotel, especially, will offer an all-inclusive experience and convenience to business travelers and holiday seekers," Chow said in his speech.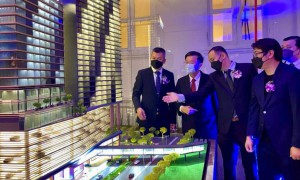 He added that besides the hotel, which is designed by SA Architects Malaysia, other components for the Penang Gateway's first phase development include serviced suites and retail components.
This urban development, he said, which is touted to be the first Transport-Oriented Development (TOD) in the state, will also be seamlessly connected to the Penang International Airport's Light Rail Transit (LRT) station, the airport itself via a link bridge, and other airport developments in the future.
The Penang Gateway will have several medical-related services that Chow believes will bode well for the medical tourism in the state.
"In all, Penang Gateway will offer healthcare, shopping, leisure, and entertainment conveniences as well as comfortable lodging for vacationers and business travelers, amongst others. This will be one of the economic stimulation developments following the Covid-19 pandemic, with job creation in the construction sector and during the hotel's opening.
"With Rackson Group coming on board, it is clear that Penang continues to remain a desirable investment destination," Chow said.
Marriott International was represented by its vice-president (asset mangement) Yeoh Soo Hin while Rackson Group was represented by its chairman Ng Lim Hon and chief executive officer Kelvin Lor at the HMA signing ceremony.
Yeoh said they are confident of the hotel's success due to its location which is in close proximity to many notable local companies and MNCs, the loyalty of Marriott Bonvoy's members today and the multi decade long-term rise in travel among the newly-minted global middle class.
"Today, Marriott International, the largest hotel management company in the world and in Malaysia, is very excited to enter into partnership with Rackson Group to bring one of our premium brands Le Meridien to Penang.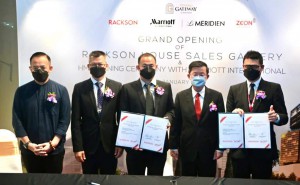 "This signing underscores Marriott International's commitment to further growing its footprint across Malaysia which stands at 35 opened hotels and 17 brands, as of today," Yeoh said.
Lor said they are proud to be associated with such a prestigious brand like Marriott International. Le Meridien Penang Airport, he said, would feature a 2,000sq ft presidential suite as well an infinity pool overseeing the runaway of Penang airport.
"This means a lot to us and represents a big leap forward for an up-and-coming developer like us.
"The hotel building facade will stand out prominently with its interesting design elements.
"It will be almost impossible for business clientele and holidaymakers, both local and international, to miss this landmark upon touching down at the airport," Lor said.
The ceremony also witnessed the official opening of Rackson's Sales Gallery in Pulau Tikus.
Subscribe here for updates on this project and other property news
Source: Buletin Mutiara