MIEA: Real estate agents respect & appreciate all Grab drivers and Grab food riders
The Malaysian Institute of Estate Agents (MIEA) has issued a statement condemning disparaging words uttered by a real estate negotiator and another individual from Penang against Grab drivers and Grab food riders.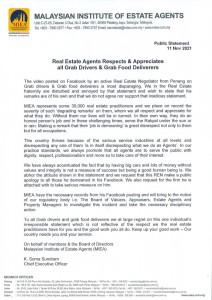 In a video posted on social media two days ago, both individuals were seen to be conducting a drive to recruit real estate agents.
However, it went awry when the Mandarin-speaking duo started to insult Grab drivers and food riders, saying that they will never end up rich, triggering negative responses from netizens.
In the video, after stating that they "do not mean to talk bad about Grab riders", the duo proceeded to say that Grab drivers and Grab food riders will never get rich, before proceeding to laugh at those who chose the career path.
MIEA CEO K. Soma Sundram, told The Vibes that the man who made the statement must take responsibility for what he said as many were angered by his remarks in the video.
"Many are upset with the real estate agents, despite us working hard to deliver the best services, and many of us are not as successful as him.
"He has set a very bad example and has dented efforts to ensure that real estate negotiators are professionals.
"He has destroyed all the hard work that we have been doing. The trust levels have gone down," he said.
Malaysia, he said, thrives because of the various service industries at all levels, and disrespecting those who are part of those services is also disrespecting the profession.
"Under MIEA's practice standards, we always promote that all agents are to serve the public with dignity, respect, professionalism and more so to take care of the public's interest."
He stressed that having big cars and lots of money is not only a measure of success but being a human being filled with good values and integrity.
Soma added that the individual's irresponsible statement is not reflective of the respect MIEA has for all Grab drivers and Grab food riders.
Source: TheVibes.com